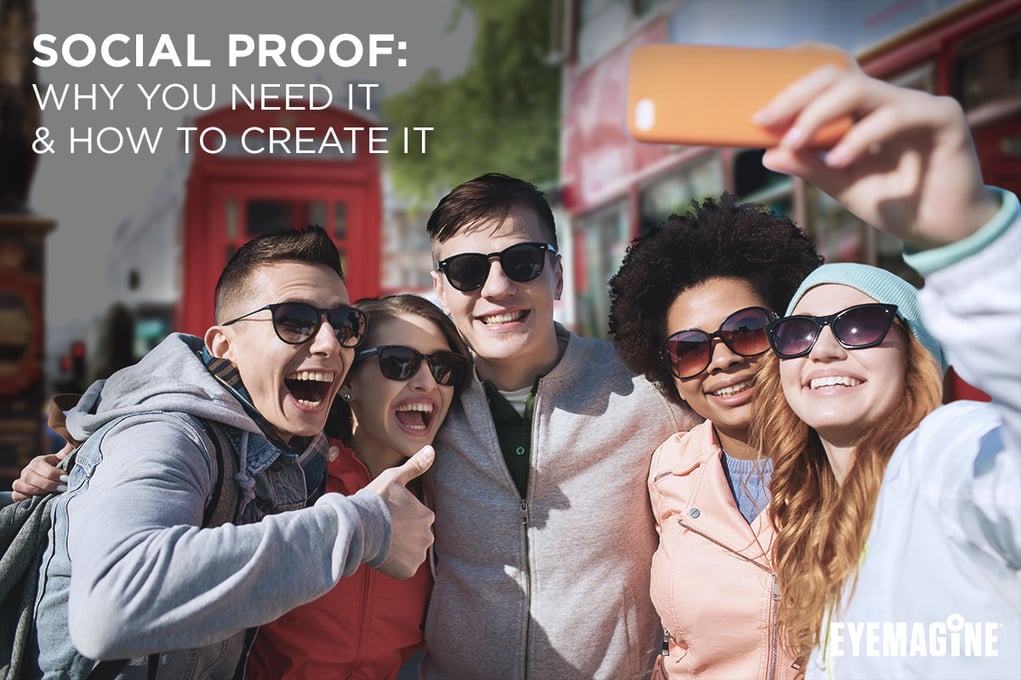 Have you ever had a friend, family member, or co-worker recommend a particular product that you'd never even heard of? Usually, you immediately pull up the brand on your phone and, shortly after, make a purchase. Now swap the scenario - have you ever recommended a product or service to someone with honest, unbridled excitement? This is social proof.
What is Social Proof?
Wikipedia defines social proof as, "a psychological phenomenon where people assume the actions of others reflect correct behavior for a given situation. This effect is prominent in ambiguous social situations where people are unable to determine the appropriate mode of behavior, and is driven by the assumption that surrounding people possess more knowledge about the situation."
In other words, social proof is the idea that people trust other people: if they are not sure about something, they will likely follow a review or a recommendation in order to come to a decision.
SEE ALSO: 3 Small Companies Master Social Media: Learn From the Pros
Why You Need Social Proof
It's no mystery that social proof works. According to the Nielson Global Trust in Advertising Report, 83% of consumers say that they trust the recommendations from friends and family over any other form of advertising, making it the most impactful method of marketing.
We see this every day. If people need something like a restaurant recommendation, a new hairstylist, or a trustworthy auto mechanic, they usually rely on a friend's recommendation - or a social proof app like Yelp - to help them make their final decision.
As a marketer, how can you recreate those "a-ha" moments of a trustworthy, friend-to-friend endorsement? Here, we break it down:
4 Ways to Create Social Proof
User Reviews
User reviews are an essential component of social proof, especially when it comes to eCommerce. Without the ability to test, touch, or try on a product, shoppers simply need this added element of credibility before they take the plunge and make a purchase.
Consider adding a photo component to these user reviews. This is a sure way to increase readability for the shopper. Content marketing app Yotpo specializes in this with their "Mail After Purchase" feature, which they define as the most efficient way to get your customers to write reviews about your products and site.
After a customer has purchased, they receive an automated email asking for a product review, which they can do from the comfort of their own inbox. Their review is then automatically posted to the company's product page. It's a hands-off, easy-to-manage social proof tool that can really pay off in the long term.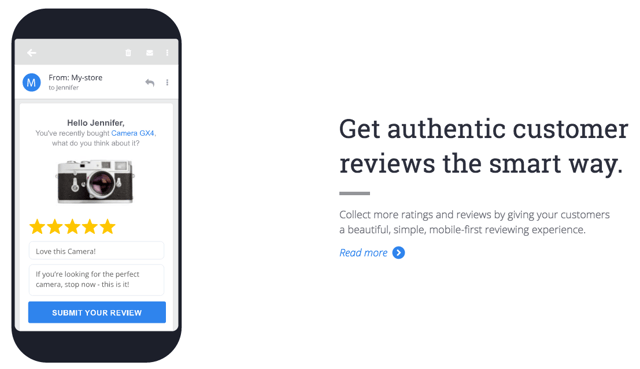 Expert Endorsement
Expert endorsements should be regarded as the new generation of celebrity endorsements, and every brand should have them. In a 2015 study by Fast Company, 86% of female respondents said they put more trust in real people's purchasing recommendations than celebrities. (This is especially important to note, considering that women control 70-80% of all consumer purchasing decisions in America, as noted by Forbes.)
Now where do you find these "real people"? Consider thought leaders and influencers who speak to the core values of your consumer. Leverage their title and any accomplishments in a way that resonates with your consumer - but be careful not to overstate or gloat about the partnership. The most successful endorsements will be the most authentic endorsements.
User Generated Content
Optimizing user-generated content can add credibility at any point of your sales process. You can use their images across social media to help drive traffic, quote their product reviews on your homepage to gather leads, or include their content in your nurturing material to help drive conversions.
Once you collect user-generated content, be sure to use it as much as possible. Social enterprise and ecommerce genius, Pura Vida Bracelets, implements user generated content at the checkout stage on their site: instead of using the traditional image scroll to show a product and all of the details, Pura Video displays images of the product "Styled on Insta" by real customers. Sharing this user generated content at the time a shopper is asked to purchase is a key way to optimize social proof.
SEE ALSO: How to Create Automated Marketing Emails to Achieve eCommerce Sales Growth
Word of Mouth
Few forms of social proof beat good ol' fashioned word of mouth. If you want to make your product or service viral enough to transcend the digital world and enter the real lives of shoppers, you need to give them real life control.
Starbucks' 2014 White Cup Contest did just that. The campaign asked customers to decorate the iconic white Starbucks cup and share their masterpiece on social with the hashtag #WhiteCupContest. The winning design would be printed on a limited edition of Starbucks reusable plastic cups. The results were viral - in just 3 weeks, the contest received over 4,000 entries.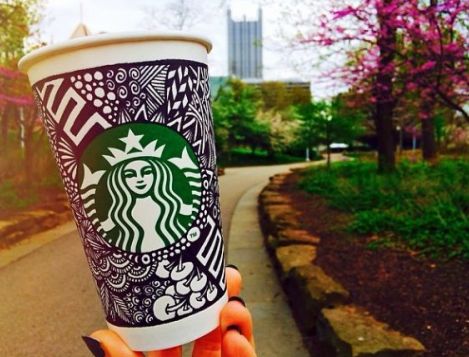 The goal is to create authentic conversation, so that your customer is compelled to share this new and exciting experience with everyone around them. Will they share your new 25% off special? Probably not. Will they share content that they feel genuinely a part of? Probably yes.
Marketers today should not be asking if they should be utilizing social proof, but rather how they can optimize social proof for their customers and industry. Randall Beard, President of Nielsen Expanded Verticals states, "As consumers are in control of how they consume content and interact with brands more than ever, understanding and resonance across screens is the only way to successfully drive memorability and brand lift today."