What is Instagram?
Instagram is a social media platform that allows for the instant sharing of photography. Co-founders Kevin Systrom and Mike Krieger developed Instagram to tackle the issue of mediocre mobile photos and to lessen the hassle of photo sharing. Nowadays, Instagram has become one of the biggest marketing platforms out there. In this blog, I'll show you how to utilize this powerful tool to generate results for your inbound marketing efforts.
To resolve these pain points of low quality, hard-to-upload photos, Instagram came loaded with features like fail-proof filters, multi-platform sharing, and quick photo sharing. Initially, the app was intended as a quick and fun way for people to share their lives with friends and family and stay connected through captured moments.
Today, Instagram has changed the way advertisers market to the masses.
How Visual Content Is Changing The Market
Companies leverage the power of social media to drive traffic and sales all the time. Traditionally, this has been done through social platforms like Facebook and Twitter. While these are certainly effective, it turns out that visual content is 40x more likely to get shared on social networks than any other type of content. This makes Instagram the ultimate social platform for brands to grow their database and do their visual storytelling.
In the early days of Instagram marketing, businesses drove engagement to company profiles through mostly organic efforts, creating enticing imagery and trendy hashtags. Now, however, Instagram can do much more, catering to both individuals and businesses alike.
Specifically, advertising on Instagram has become easier than ever. Advertisers now have the ability to effortlessly reach out and expand their audience. How? Starting with simple display ads, Instagram has expanded into a whole new category of functionalities. By leveraging the visual sharing features of Instagram along with it's easy-to-use advertising features, many companies are able to not only share their brand story, but also completely build their brand on the platform.
Glossier, a leading brand in the cosmetic industry, has found great success by utilizing these tools to develop a loyal following of return customers. Here, we take a look at how Glossier has effectively used Instagram for business and explain how you can do the same with your brand.
Getting Started
A "Raw" Approach to Content Development
It might seem instinctive to share lot of display ads and planned content, but Instagram was designed to capture and share moments instantaneously, not preemptively. Don't take away the authenticity factor by sharing too many studio shots or ads. The content you share should represent your brand as a whole and be relatable at the same time. Glossier does a great job at this by maintaining an overall theme to the content they post and sharing user-generated content to keep it real.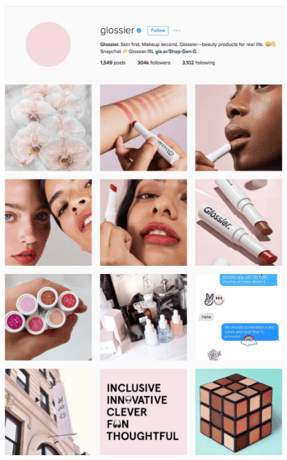 The key here is to keep your buyer persona in mind and make sure that the "impromptu" images that you share speak to their interests and likes about your brand. Your message should be interesting, aesthetically pleasing and inviting.
Social Proof
Nothing is more powerful than trust, and it is hard to get consumers to trust your brand if they are unfamiliar with it. Having someone that your audience trusts working as a brand advocate will solve this problem and help you build a genuine connection between your brand and the consumer. This person doesn't have to be a celebrity or a well-known social influencer to make a meaningful impact. In fact, Glossier uses their real customers and user-generated content to build this social proof for their products. This strategy helps followers relate to the brand and it's products: if real people just like them are enjoying Glossier, then maybe it will work for them as well.
SEE ALSO: Social Proof: Why You Need It & How To Create It
Listen To Your Consumers
Your Instagram marketing should aim to do more than just communicating a story to your audience. Use your Instagram account to have users communicate their story to you. Listen to what they are saying in the comments and try to provide assistance, discuss their interests or address their pain points.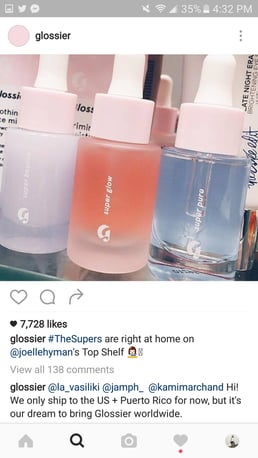 This not only extends the customer care experience but also allows you to have a deeper understanding of your audience that will help you deliver more interesting, segmented content to them in the future.
SEE ALSO: How to Create Automated Marketing Emails to Achieve eCommerce Sales Growth
Utilizing Paid Advertising
Instagram began catering to advertisers with it's initial release of sponsored ads, but it has become much more advanced with recent updates. Specifically, sponsor ads now have more than one click-through option, meaning that companies are able to choose whether they want someone to click to purchase or click to enter their information. This is very important because it allows companies to do data capture without making the audience leave the social app. That way, they can grow their contact database and customers can continue to browse and convert.
If you haven't started focusing on Instagram, it may be time to consider the switch. As a visual content advertising tool, Instagram can effectively develop brands and drive conversions, both for B2B and B2C businesses.