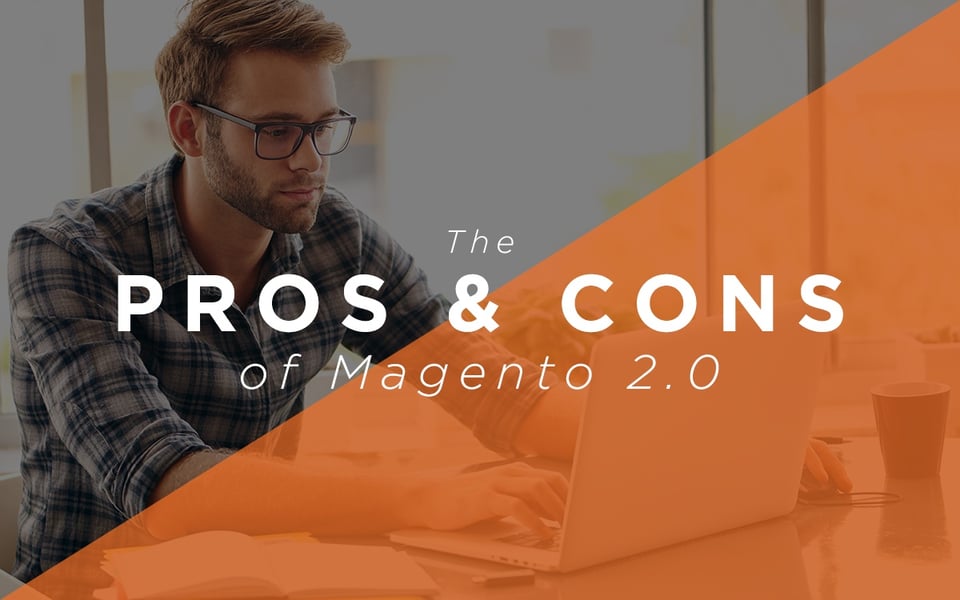 Magento 2 is the buzz. You see Magento 2 in the news, on your LinkedIn feed, on social media, and practically everywhere else.
Magento's 2015 acquisition by private equity Permira Funds (see: Magento Commerce Launches as Independent Company Backed by the Permira Funds) marks a new era for the eCommerce product. While it began as an open source product, Magento has evolved into a dynamic contender in the business software space.
Knowing what drives success for Magento gives us insight into the road ahead--which means this won't be your typical list of product features. We are going to cover the motivating factors that drive Magento, what you can expect from Magento software, and look at the future based on past performance.

Brief History:
Magento came onto the market at an interesting time for open-source eCommerce. At the time, the dominant force in the open-source eCommerce market was osCommerce, which at the time was an aggregate of individual scripts rather than a robust application.
Magento, on the other hand, was built on the Zend Framework, a PHP's de facto framework that demands modular design, adherence to best practices in software architecture, at times loose-coupling, and ultimately scalability.
What do these engineering terms have to do with eCommerce? Applications written on the Zend Framework can be upgraded without losing software customization, which is not the case with the other open-source eCommerce software products on the market. Can you imagine, for a moment, being a developer and building an online store that can live for years without having to throw away valuable work? It was a pivotal moment in open-source eCommerce product landscape.
Magento has evolved since. The product grew like wildfire, and a division was opened to cater to enterprises and offer professional services. After that an enterprise version was released, a mid-level solution for small businesses was released (remember Magento Professional Edition?), and a president was hired. In June 2011, eBay acquired Magento, and 4 years later in November 2015, Permira Funds acquired it--which brings us to today.
Why are we talking about Magento 2? Well, if you're like most Directors or CXO's, you want to see the potential risks and opportunities.
1. Magento 1 End-of-Life
Magento 1's end of life was announced this year. The target date for the end of support is late 2018--which means an upgrade to Magento 2 may be the obvious next step.
However, at the time of writing, there were just over 2,000 open issues.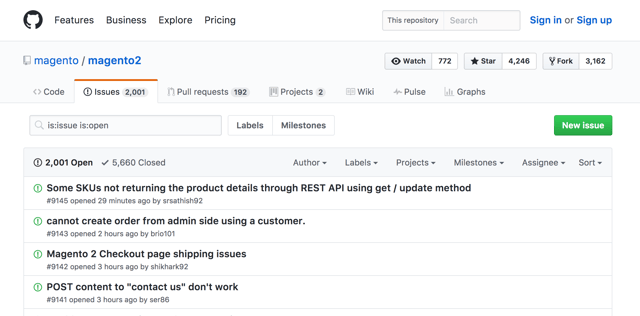 Many merchants raced to launch Magento 2.0 when it was released, which also meant they to deal with challenges that any open-source software product comes with on its initial launch: bugs.
In the past, we have seen Magento versions that have been released prematurely, resulting in bugs being patched by the Magento development team. Magento Enterprise Edition offers bug-fixing support, while Magento Community Edition does not. Know the difference when deciding to build on Magento.
Our advice is to wait for a following minor release or two, like Magento 2.1 and Magento 2.1.1, before deploying to a production environment.
2. Plug-in Support
"I skate to where the puck is going to be, not where it has been." - Wayne Gretzky
When the end-of-life rolls around, we expect Magento 1 will continue to be supported for a short amount of time. How short? It will depend on plug-in popularity.
As of writing, Magento 2 has been released for two years; the developer release candidate was released in Q1 2015. Many popular plug-in developers still have not upgraded their plug-ins for Magento 2 compatibility, even though many plug-ins are coming out with beta versions. Those beta versions are going to require quite a large investment of time and money during development.
This is a major consideration when deciding to upgrade or build a new online store on Magento 2. Are the Magento 2 plug-ins production-ready?
3. Security
When it comes to eCommerce, security comes first. Seasoned Magento 1 users know that security patches are a regular occurrence. As a merchant, you have the power of millions of users kicking the tires on the software. A significant number of those users are developers, and those developers report bugs when they find them. That's one of the benefits that open-source software provides.
Now that Magento 2 is in production use, it is increasingly receiving the traffic and attention of the public. Bugs are being reported and Magento is fixing them. In the early days of Magento 2, we advised merchants to wait on their move to Magento 2. To avoid risk to budgets and schedules, we strongly suggested waiting for a minor release (i.e., Magento 2.1).
As a merchant, the last thing you want to deal with is a breach. To avoid such a nightmare, it is imperative that Magento patches be installed immediately upon release. This goes for Magento 1 or Magento 2.
See: Magento eCommerce Managed Services
4. Maintainability
Magento 2 is the next evolution of Magento. It is the future.
When Permira Funds acquired Magento, their goal was, and still is, to increase shareholder value at an astronomical level. Magento serves a market that is growing 15% per year. To grow Magento's footprint globally while cutting the less profitable activities related to eBay's ownership will result in a big win for the firm.
Accomplishing these goals can only be done with a superior product. The investment going into the product itself will benefit Magento users and merchants. Magento itself is resource-intensive and extremely robust, demanding a trained and capable developer or development team. As an eCommerce executive, take comfort in the fact that the product's popularity will lead to a larger talent pool, lower development costs, and more available resources.
As the product improves, look for new releases that will add features, fix bugs, and plug holes in security.
Take your patches seriously. You absolutely need someone keeping an eye on new patch releases and applying them.
5. Cost
Upgrading to Magento 2 has a significant cost. The upgrade is not like a typical software upgrade. If you have been working with Magento for any significant amount of time, you will understand that upgrades are not all simple.
Potential cost of upgrading Magento:
Backwards compatibility, or lack there of
Data migration
Data conflicts
Module behavior
Theme upgrade
There are tools available to upgrade Magento data from Magento 1 to Magento 2. The tools are not perfect, but they are a great starting point. Be prepared for a thorough quality assurance process, because this upgrade is the biggest upgrade you will have done on Magento, to date.
6. Performance
Magento offers serious performance enhancements. The software is built for PHP7, a new and improved version of PHP. Magento 1 was designed for PHP5.
See: How to Speed Up Magento 2
The benefits of the new infrastructure requirements take the pressure of the application itself to come up with the performance enhancements.
Your online store will perform much better on Magento 2 than Magento 1 with the proper configuration and infrastructure. Our recent deployments of Magento 2 prove that PHP7 and MySQL 5.7 enhance performance from the infrastructure up.
7. Security
Magento 2 continues its support of security best practices, including PCI-Compliance (enhanced in Magento Enterprise Edition 2).
Magento will undoubtedly protect its product in the public domain as long as they are being supported. For Magento 1 users, know that security patches will continue to be released through the life of Magento 1. Magento 2 users can rest assured that security in eCommerce will always be a top priority for Magento.
The beauty of open source software is that millions of people are using the product in ways that a single merchant would never imagine. That exposure fosters well-rounded feedback. That feedback results in patches that benefit you, the Magento merchant.
A common problem with security is that merchants are reactive rather than proactive. Confirm that you are receiving your Magento email notifications and receiving security patch email updates. Apply those patches, immediately. If you are not monitoring the security patches proactively, your online store will be at risk of breach.
---
CONCLUSION:
Our key points to remember:
Magento 2 will be a well-supported product for the future
Magento 2 is going to have challenges when upgrading, be prepared for the investment of time and resources; plan well
Magento 2 security and performance will be worth the investment
Know your Magento extensions and if they are proven on Magento 2
Need help? Talk to a Magento expert today.