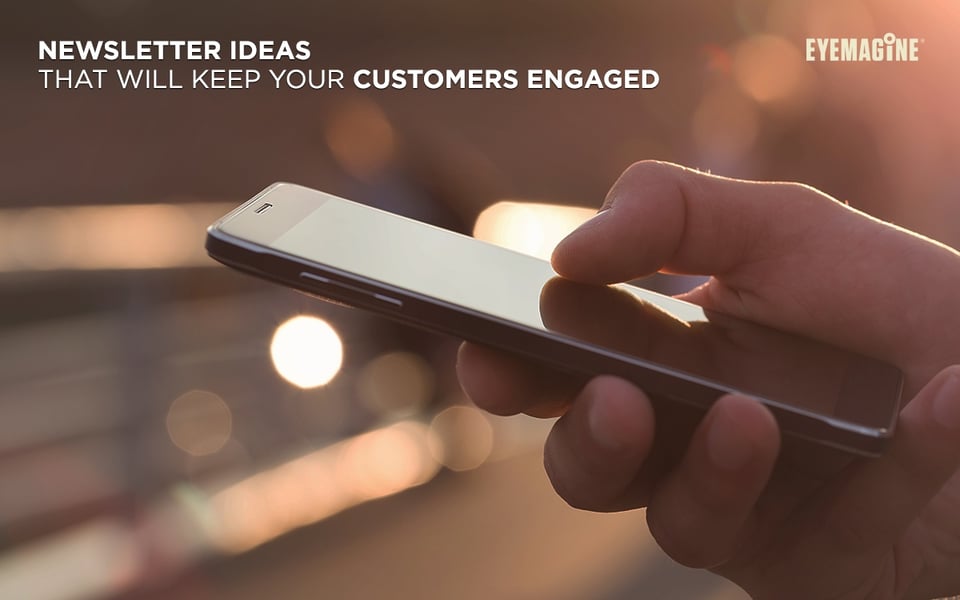 Sending out consistent email newsletters is a personal way to keep in touch with customers and raise awareness of your brand.
Whether you send a newsletter out daily, weekly, or monthly, it can be tricky coming up with new and exciting ideas.
To get some inspiration, here are 10 of the best newsletter ideas that your business can use to keep customers engaged.
With ideas like these, customers will love seeing a new email from your business in their inbox.
Top 10 Newsletter Ideas
Latest & Greatest Blog Posts
What better way to promote all that educational content you're publishing on your blog page than in a newsletter?
Provide your subscribers with a recap of the week's most popular blog posts, like Invision does here.

A newsletter doesn't have to be focused on selling to be effective.
Instead, the best performing newsletters are the ones that speak to a buyer's pain points and meet their needs with helpful solutions.
New Offers & Sales
Your newsletter is an excellent place to publicize an upcoming sale or new offer, such as a free trial or coupon code.
Discounts encourage repeat purchases and remind subscribers of the value of staying connected to your business.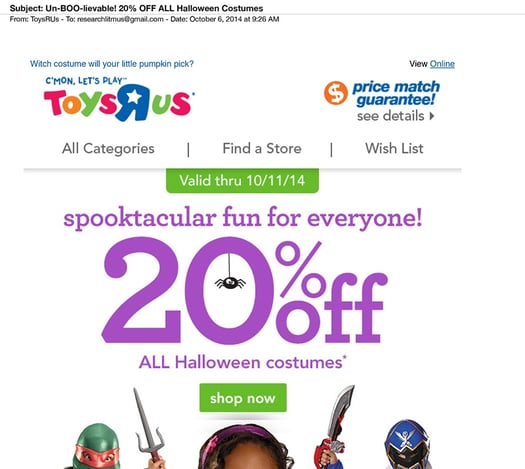 It's also a good idea to alert your readers with a "last chance" email, letting them know when a sale is about to end so they don't miss out.
The Plain Text Email
Plain text emails are essentially emails without any images that look more like they're coming from a real person rather than a robot.
This is a great way to start the conversation with your subscribers.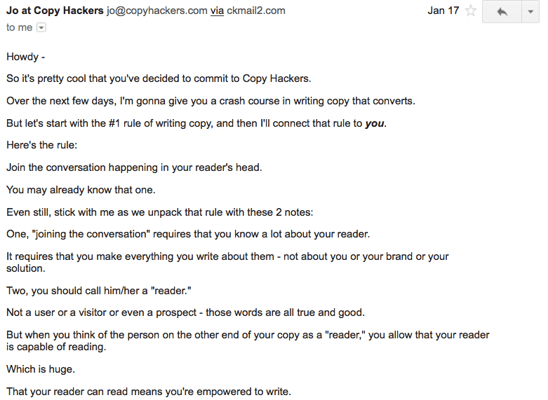 According to HubSpot, plain text emails (like this one from Copy Hackers) get more opens and clicks.
Sometimes with your email newsletters, less is more.
Online Course or Webinar Promotion
One of the main points of newsletters is to nurture your potential customers and take them further down the sales funnel.
In addition to providing subscribers with helpful blog posts, take it to the next level by inviting them to join a webinar or online course.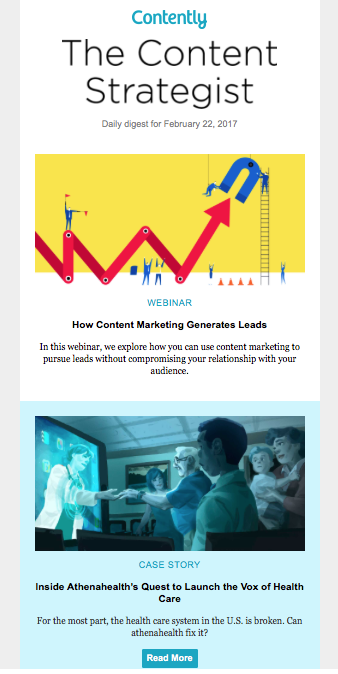 Here, Contently promotes a free webinar on an enticing topic. Who doesn't want to get more leads?
Be careful to send offers like this to contacts who are already in the consideration stage of the buyer's journey, otherwise it could be a turnoff.
Upcoming Events
From conferences to trade shows, upcoming events should always be promoted in your newsletter.
Check out how author Austin Kleon promoted an upcoming art show in his email newsletter below (see #10 on his list).

I love how Kleon provides value, and lots of it, before making his pitch.
His newsletter is also extremely personalized and his brand truly shines through - two techniques that work wonderfully in any email newsletter.
SEE ALSO: How to Create Automated Marketing Emails to Achieve eCommerce Sales Growth
Request a Review
Chances are, if a customer signed up for your email newsletter then they probably already love your product or service.
Take advantage of this kind of subscriber by emailing out a request for reviews.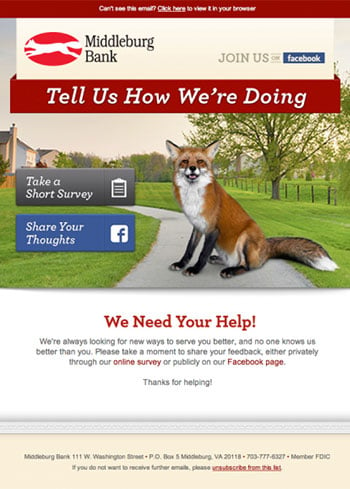 You can also send out a similar email inviting subscribers to follow your business on social media.
Holiday Greetings
Holidays are an essential time to get in touch with your subscribers.
Don't just reach out on Christmas and New Year's; look for creative ways to delight your customers on fun and usual holidays as well, like National Puppy Day.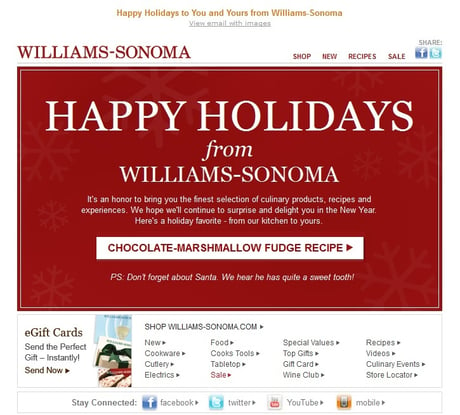 Take it a step further and send out customized emails on your subscribers' birthdays with a special discount code.
They will be delighted that you remembered and sent them a personalized email.
Contests & Giveaways
Contests and giveaways are an excellent way to introduce those who haven't made a purchase yet to your product or service.
Giveaways especially provide a risk-free way for these top of the funnel leads to engage with your brand.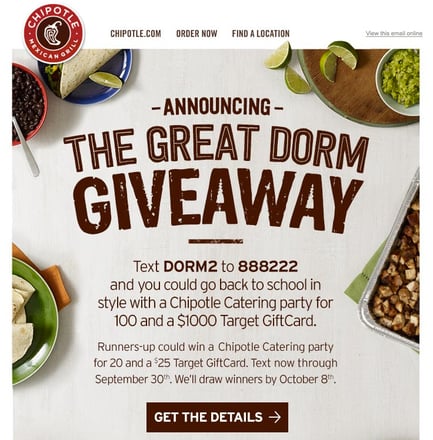 Your subscribers will definitely stay engaged with enticing offers like this one, from Chipotle.
For existing customers, contests and giveaways are also important because they increase brand loyalty.
Brand Story
Every business has a unique story about how it got started and where it's headed.
Sharing part of your brand story will create a stronger connection between you and your customers and distinguish your business from the competition.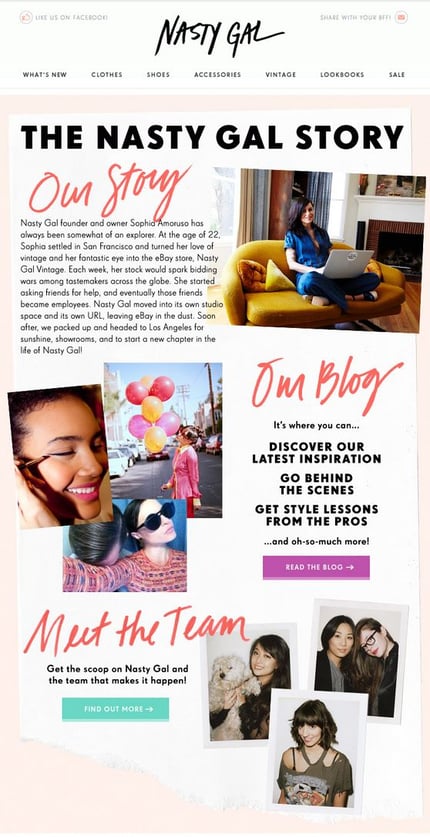 Give your subscribers an inside look at your brand's humble beginnings, like Nasty Gal did.
This is a good example because it also provides behind-the-scenes photos of the business, featuring real life employees and, even better, their pets!
New Products or Services
If you have an upcoming product launch, give your subscribers a sneak peek like Apple.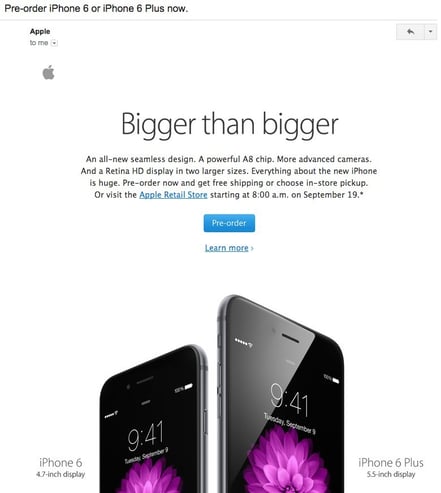 Emails like this succeed at building up the hype around a new product or service.
Make sure to provide key details such as release dates, benefits of the product, and a call-to-action.
SEE ALSO: Tips for Creating Newsletters People Actually Want to Read
Use any or all of these newsletter ideas to capture, and keep, your audience's attention.
When constructed with the right design, copy, and CTAs, newsletters can be a very effective tool in your marketing strategy.
Need help incorporating newsletters into your marketing strategy, or testing your current efforts to make sure they're getting the right results?
Contact a marketing expert at EYEMAGINE today for a free consultation.