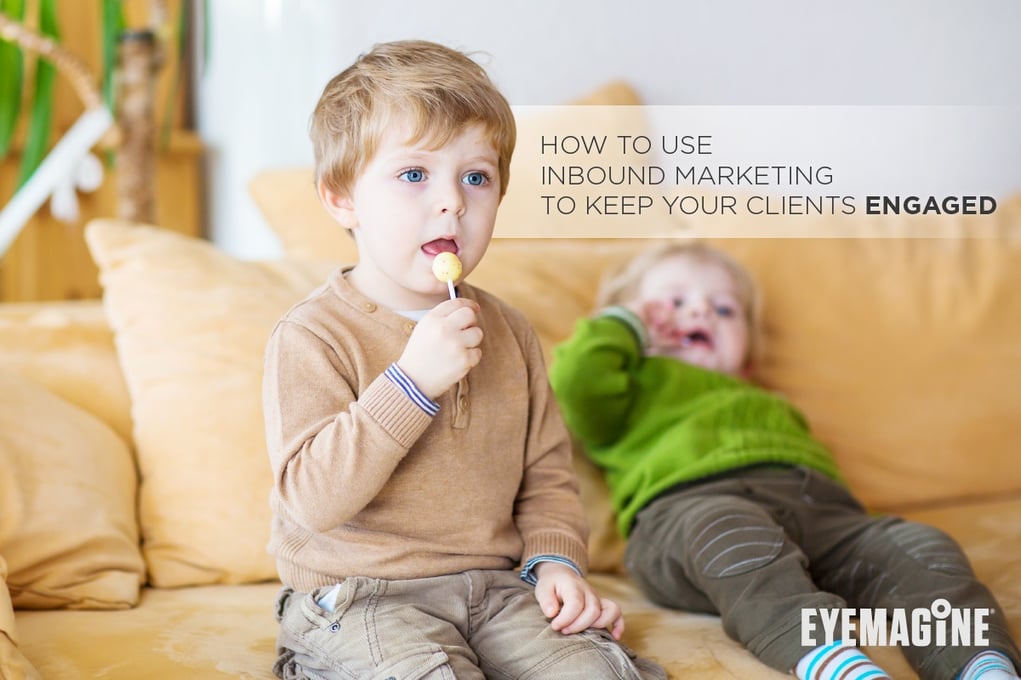 Generating interest is just the first step to having a successful web presence. Yes, online businesses must first grab the attention of their audience and get people to their site if they are to stand a chance. They have to stand out from the competition and show that they can successfully attack prospects' pain points, answer their questions or pique their interest.
In the bigger picture, it's all about nurturing leads and creating return customers. Why? According to Invesp, it's 7x more expensive to get a new customer than to retain an existing one. On top of that, studies show that nurtured leads make 47% larger purchases than non-nurtured leads.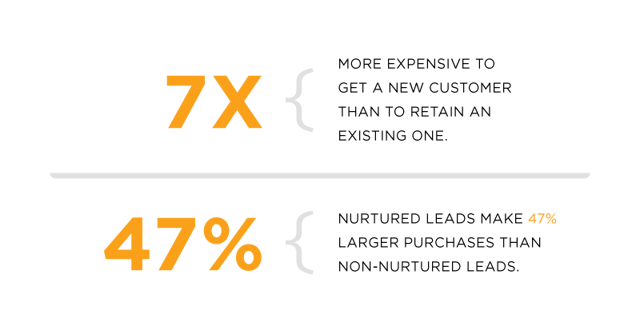 This means that nurtured customers end up costing less and spending more than new customers. Long term client engagement, then, is an integral and profitable part of any successful online business plan.
How to Maintain Client Engagement
The key to keeping clients happy is customer service and customer experience. According to Customers 2020 Report, "By the year 2020, customer experience will overtake price and product as the key brand differentiator." This means that even if a company has a fantastic product or the lowest prices, they will not break ahead of the competition unless their site visitors have an overall positive customer experience. People want to feel connected, understood, and special – and they will give their business to the company that they have a trusting, positive relationship with.
This kind of client engagement is a marathon, not a sprint. A full, "63% of people requesting information on your company today will not purchase for at least three months – and 20% will take more than 12 months to buy." Although this is a substantial investment, it is completely worth it: nurturing customers and increasing customer retention rates by just 5% increases profits by 25-95% (Bain & Company).
Workflows
One of the most effective and low-maintenance means of maintaining client engagement is through the use of automated nurturing workflows. According to ANNUITAS Group, businesses that use marketing automation to nurture prospects experience a 451% increase in qualified leads. On top of that, companies that automate lead management see a 10% or greater increase in revenue in 6-9 months.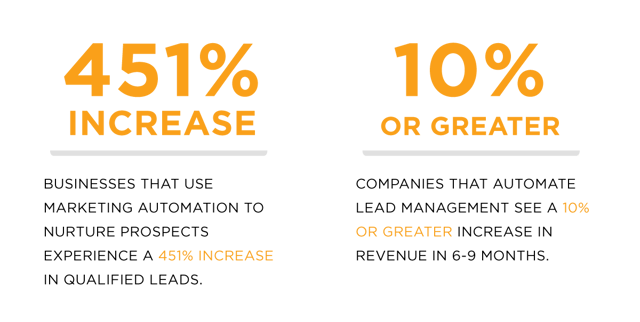 The key here is to build effective workflows from the start, making sure that they target accurate personas and get the right content to the right people at the right time. This requires time, effort, research and testing. There is no shortcut. That said, while they can be labor-intensive in the beginning, well-executed workflows are ultimately a hands-off, long-term means of reaching customers and keeping them nurtured.
SEE ALSO: The Basics of Smart CTAs for Personalized eCommerce Marketing
Re-Engagement Workflow
Re-engagement workflows aim to grab the attention of customers that have dropped off or become dormant in your database. Customers want to feel special, meaning that workflows should be personalized and interesting and that you should notice when they go MIA.
The first step, of course, is to identify your inactive contacts and put them in one or more lists. Once that is done, build your re-engagement workflow. To that end, HubSpot describes 5 effective re-engagement strategies:
Update email preferences

: Offer to change the frequency of emails or customize the subject matter. This will make you sound less like a company that is trying to spam them with things they don't want and more like one that's helpful to those on the receiving end.

Email back a feedback survey

: Simply ask how you can improve engagement and what they want to see.

Incentivize email activity

: Offer discounts or freebies based on previous purchase or download history.

Get emotional:

Tell the customer you've missed them. It doesn't always work, but it can be effective for those that have simply gotten busy or forgotten about your product/service.

Set a deadline:

Ask them to opt in or be removed from email lists. This will either re-engage someone or, at the very least, clean up your email database.
As you craft your workflow, be sure to use only one of these strategies at a time and to pick an email layout and language that will resonate with your target audience.
Abandoned Cart Workflow
According to Baymard Institute, a full 68.81% of online shopping carts are abandoned at the checkout stage. Abandoned cart workflows encourage these visitors to return to the site and convert into customers. Since they are low-effort and they target the right customers at the right time, these workflows present online businesses with the perfect opportunity for easy money and easily recovered customers.
Site visitors who abandon their carts are ready to buy. They are interested in the company and its products, and they just need that extra push to ease their minds and encourage them to go through with the conversion process. Usually, this workflow takes the form of a series of automated reminder emails sent shortly after the prospect has abandoned their cart. These emails should be helpful and inviting, with:
Email 1:

asking the visitor if they have any questions, seeing if they need help placing their order, and guiding them back to their cart or to related problems.

Email 2:

If email 1 doesn't work and the cart is lost, the next step could be to enroll that customer into top-of-the-funnel emails and promotions, sending them content that encourages them to make a purchase in the future. Consider the following example text:
"Hi, Lauren. Thanks for stopping by the Personal Wine store. I saw that you started an order on our website, but didn't get around to placing it. Were you having any problems or is there anything I can help you with? If so, just respond to this email and I'll be happy to assist! In case you were looking to pick up where you left off, here's the Domaine Savoureux Cabernet Sauvignon you had in your cart. Here is a link to complete your order. Cheers!"
This is an example of an abandoned cart nurturing email from one of our clients, Personal Wine. It is triggered to send at 1 hour after the cart is abandoned, and dynamically populates the image and product name of an item in the abandoned cart. It comes directly from the customer service rep and asks the customer if they need any assistance.
Overall, this sequence performed well: Email 1, sent at 1 hour after abandonment, has an open rate of 60% and a click-through rate of 10%. Email 2, sent at 24 hours, has a 46% open rate and 7.4% click-through rate. According to Mailchimp, the industry standard at the time for eCommerce open and click through is 17% and 2.5%, respectively.
With this inbound marketing automation, we're well above those standards. Why? We're engaging the right audience at the right time, which ensures that we hit our goals and get the reaction that we want. It's important to note, too, that even if your numbers from an abandoned cart workflow aren't very high, it's still traffic and conversions that the company wouldn't have otherwise had, which makes it an effective inbound marketing strategy no matter what.
Follow-Up Workflow
As the name suggests, this workflow is meant to follow up with people who have engaged with a company in some way (i.e. by filling out a form, signing up for a content offer, making a purchase, etc). Once again, it is important to make the emails in this workflow as personalized and helpful as possible. Look into the why behind the customer's interaction and give them information that they will likely find useful or interesting.
Customers that have requested an eBook entitled How to Find the Perfect Paint Color For Your Bedroom, for example, are likely into a few things. On the surface, they are probably interested in:
Home improvement

DIY projects

Creating the right "feel" for their home

The meaning and effects of various colors on people and spaces
On a deeper level, they may even be motivated by things like:
Creating their own personalized space

Finding emotional balance

Taking control of their living space, etc.
Do your research, conduct interviews, look into your data, and find the answers to these deeper why questions. If you understand what is motivating your customer's interactions, you will be better equipped to provide them with interesting, helpful or compelling inbound marketing information.
Once you have this information, create your follow-up workflow. The format will vary depending on the kind of engagement that the customer has had. A customer that has downloaded a very specific eBook or white paper, for example, will be much more engaged than a customer that has signed up for a free offer, meaning that the information in their workflow can be more middle or bottom-of-the-funnel. With that in mind, here is a general follow-up workflow format:
Email 1:

This email should always be sent immediately: Listrak data shows that 92.5% of all first sales from new subscribers come within the first week of opting in and that a full 45% of them occur the very same day. Thank customers for their interaction and give them their next step (the link to requested content, an invitation to ask any questions, etc).
Email 2-3:

The second (and possibly third) email should be sent 3-5 days after the first. It should contain links to information that the customer will find helpful, such as related blog content, related products, a compelling eBook, etc.

Do not

push your company onto them. Instead, provide general information to build trust and credibility in your brand.
Email 3-4:

Try to move them down the funnel and encourage them to make a second purchase or interaction. If they are a less engaged customer, this is where you can begin discussing relevant case studies, products, or encouraging them to reach out.
Final email:

End the workflow with an offer that will be useful to them or that will bring them to interact with your site again. This could be a discount, contact, or valuable content.
Sales Enablement Strategies
Client nurturing and engagement is not a one-department job. Internally, it's important to keep your marketing and your sales team on the same page and ensure that your sales team works to nurture these relationships as well-- especially in the B2B context. If everyone has the same goals and methods in mind, they are likely to be more effective overall. In fact, according to MarketingProfs, companies with aligned sales and marketing generated 208% more revenue from marketing.
This is done through sales enablement. For the purposes of this blog, the main idea here is that the sales team should have the processes, practices, tools and technologies that they need to increase their productivity and close more customers. This looks different for every company, but the driving logic is that the sales team should be just as aware of the customer's motivations and movement along the buyer's journey as the marketing team, and they should approach them accordingly. If they know what is interesting their audience and what moves them to action, they will find more success.
While this may seem obvious, HubSpot notes that 76% of content marketers are forgetting sales enablement. Here are some of the main components of a successful sales enablement strategy:
Strategy development

Creation of material and assets

Systems and support (CRM)

Sales training

Data Analysis

Finding cross-selling opportunities
There is no easy way out here: sales enablement requires dynamic, committed engagement if it is to be successful. And at 208% more revenue, it's well worth the effort.
Fresh Content
It's best to have multi-level, consistent content to ensure steady client engagement and stay top-of-mind. This usually takes the form of: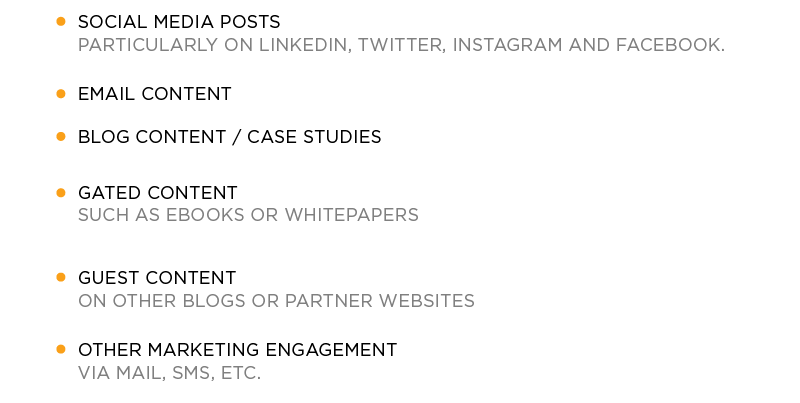 Once again, this varies based on the type of business and the buyer persona that you are targeting. A trendy, young clothing boutique, for example, may benefits from frequent, curated Instagram images, funny tweets with pop culture references, and "hot new" email updates. A B2B service provider, on the other hand, will probably require content like LinkedIn posts, informative whitepapers and long-form blog articles.
SEE ALSO: Social Proof: Why You Need It & How to Create It
In any case, it's important to stay consistent and monitor your performance and engagement metrics. If you click-through rates are low or you have a high bounce rate, it may be time to change your strategy or conduct A/B tests to narrow down where and why visitors are dropping off. On the other hand, if you have high engagement with a particular social media post or page on your site, use that information to craft more content that you clients love. If you keep up the conversation and stay aware of your customers' interests and concerns, you are sure to maintain successful, long-term client engagement.