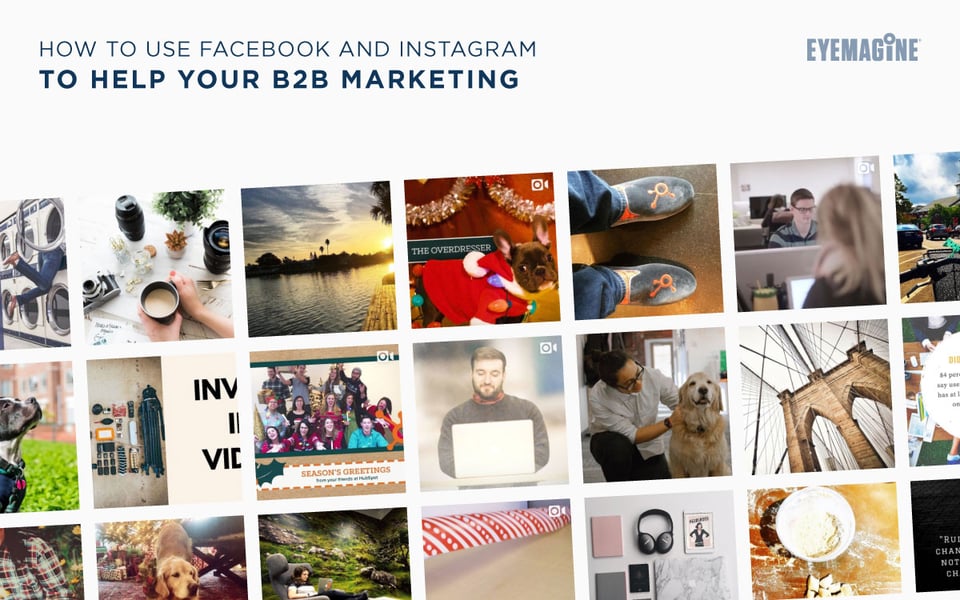 Social media marketing is an essential part of any comprehensive marketing campaign. If you're not gaining exposure and getting shares for your content, then you're simply not getting the most out of it. However, with new social media platforms, features, and strategies emerging almost every day, it can be difficult to decide on logistics like where and when to post.
In this blog post, we'll break down how to effectively use Facebook and Instagram as part of your B2B social media marketing strategies.
First Things First
Before you start posting anywhere, there are a few things you have to look at:
Your company's metrics and historical data

Your audience's social media behavior

Industry data and statistics

General social media data

Your competition's performance
The bottom line is that not all social media platforms are created equal, and not all will be equally effective for every company. Look at the numbers and figure out which platform will work best for your company, industry, and audience.
For many B2B businesses, for example, platforms like LinkedIn and Twitter are much more popular, since that is where their audience is active and where their competition is most present. However, Facebook and Instagram can both still be extremely valuable - if they are utilized properly. Let's dive in.
Facebook
Facebook can be more inherently casual as a platform, and with over 1.79 billion monthly active users, it attracts a very diverse audience. This means that your company can have lots of different kinds of engagement on the platform, and you can use it to show a different, more human side of your business.
To get this right, make sure that you have clear, fully-developed buyer personas. If you completely understand your audience, you will be able to create content that they find compelling, entertaining, or interesting.
Once you have defined your personas, work to increase your engagement and create shareable content:
Create Facebook events
Perhaps your company is hosting an event to share thoughts, make an announcement, or expand your network. Invite people on Facebook and work to promote the event through your page. This will not only expand your social reach but also - if done correctly - increase attendance. Make sure you don't forget the basics here, like including a banner image, adding an interesting event description, and periodically posting to the page with updates and developments to maintain engagement and generate excitement.
Create photos or videos that people will want to share
This could be a tutorial video, an infographic, or even a funny GIF. Just make sure that it tells a story and provides content that your audience will find interesting.
Upload behind-the-scenes images
These should showcase things like your company culture, your employees, your day-to-day operations, or your company's backstory. If your audience can relate to someone on your team, laugh with you, or root for your company and what it stands for, they will likely be much more loyal, long-term customers.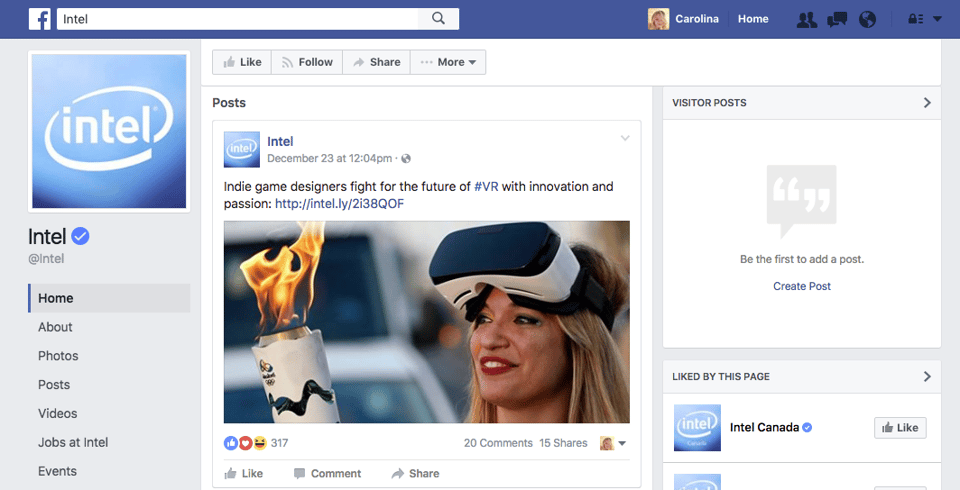 Intel, for example, does a great job at featuring their employees and their personal experiences with the brand. This not only helps with recruiting but also adds a human touch to their newest developments and interactions that really draws positive attention.
Capture new contacts
Don't be afraid to ask people to opt in. Include a link to a webinar, eBook, or guide in your post to capture customer information and get more contacts in your company database. Be careful, though - people don't want to be sold things they aren't interested in. In order for this to work, you have to make sure the content you post will be perceived as interesting and high-value to your audience.
Engage
The largest social media conversation in the world is happening on Facebook - and you're missing out if you don't try to be a part of it. That said, it's not enough to have automated posts and impersonal messages. You have to start a conversation with your audience and encourage them to respond. Answer their questions, address their concerns, and give them interesting information to build trust in your brand and increase consumer loyalty.
Instagram
As a visual platform, Instagram works a little differently, and it attracts a different demographic.
That said, it's an extremely valuable platform. Videos and photos are the most shareable form of content out there:
Content with relevant images gets

94% more views

than content without relevant images

Visual content is more than

4

0X more likely

to get shared on social media than other types of content
Engage with a new demographic
Instagram users are younger than those on other social media platforms. 55% of all online 18-29-year-olds in the U.S. are on Instagram, with the next largest age demographic being 30-49-year-olds (28%). On top of that, Instagram is surprisingly international, with over 80% of users living outside the U.S. So it's a great place to capture the attention of millennials and of foreign markets.
SEE ALSO: The Power of Instagram Marketing & How You Can Leverage It
Boost brand awareness
Instagram can increase brand awareness and company visibility. To accomplish this goal, you need to:
Utilize hashtags

Post regularly

Tag well-known or local locations

Create behind-the-scenes posts

Mark milestones or holidays

Share exciting information
This can all help boost awareness, strengthen your online presence, and humanize your company in a way that is certain to increase engagement and loyalty.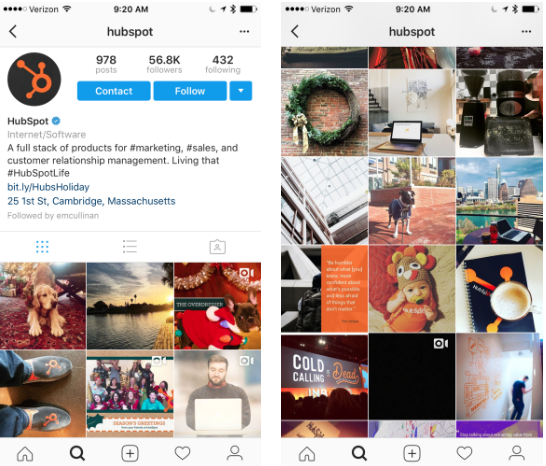 A great example is HubSpot, a B2B marketing and sales company. Their Instagram feed, as you can see, is full of holiday-related posts, travel, coffee, animals, and inspirational quotes. This appeals to their customers' lifestyles and interests, illustrating that the company has the same values and experiences.
Encourage sharing
This comes down to knowing your audience and posting images or videos that they will find engaging, helpful, or interesting. Again, focus on things that will get to the heart of what your personas are looking for, or try to take a new and unexpected angle on a topic that will draw interest and increase engagement.
Questions? Feel free to schedule a call with us today so we can discuss how to incorporate these platforms into your company's social media strategy.