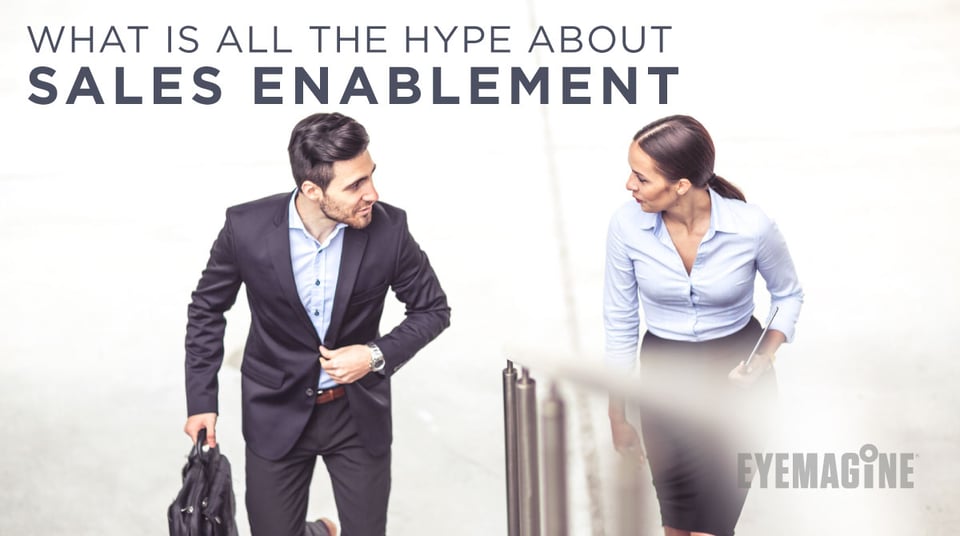 Over the last three years, the distinctions between the marketing and sales worlds have been eliminated. Where there was once a clear line of demarcation separating the roles of each department, today we find blurred lines at best. Gone are the days where a marketing department could pass a lead over to sales and consider their job done.
There are various software solutions and blogs out there that aim to help you effectively bridge the gap between marketing and sales and ensure that there is an alignment between the departments. What is missing, however, is a clear understanding and agreement about what new role marketing is to play on the sales side of the engagement.
Marketing and Sales Misalignment Can Hurt a Business
This is just not an academic discussion: the fact is that if sales and marketing do not work well together it can dramatically impact a company's bottom line. This is demonstrated by the following:
59% of marketers say they provide salespeople with their best quality leads, while salespeople rank marketing-sourced leads last (HubSpot, 2016).
Misalignment between sales and marketing technologies and processes costs B2B companies 10% of revenue or more per year (HubSpot 2016).
When sales and marketing teams work together, companies see 36% higher customer retention rates and 38% higher sales win rates (HubSpot 2016).
How Should Marketing and Sales Align?
Many attempts have been made over the years to remedy the misalignment, and each time a new word is coined to differentiate it from previous attempts. These include marketing/sales alignment, sales enablement, and marketing enablement - to name a few. To a great extent, though, many of these concepts have failed to effectively specify what can or should be done to ensure that sales and marketing teams are working together to achieve success.
This blog will share a few of the programs that EYEMAGINE offers that we believe should be implemented by all companies for successful alignment. We work with clients to establish and refine each of these areas:
Customer Securement
Nothing happens until somebody sells something!"—Arthur "Red" Motley
To acquire the right type of customer, marketing and sales teams need to build a strong process that aligns their goals, methods, data, and technology. This alignment is critical when it comes to the following:
Lead Scoring - Ranking a prospect's activities and attributes in order to determine who are the companies' best customers
Key Performance Indicators - It is imperative to identify the KPIs that generate quality leads and establish goals that ensure that the sales team has enough people to speak with
Sales Categorization - Establishing criteria and thresholds for marketing qualified leads (MQLs), sales qualified leads (SQLs), sales accepted leads (SALs), opportunities and customers
Lead Management - Agreement on the process for lead management and notifications
CRM - Agreement on the practice and use of CRM
Sales Workflows - Creation of sales workflows to

alleviate repetitive sales tasks and

ensure standardization of the process
Sales Collateral - Creation of sales collateral to ensure consistency of the brand and messaging
Regular inter-team discussion of activities, challenges, and solutions
Cross-training on sales and marketing tools
Client Retention
Customer retention by 5% increased profits of between 25 to 95%. - Harvard Business Review
When a person or company becomes a customer, it is usually out of the purview and control of either marketing or sales - neither group is involved in helping to ensure that the performance, expectations, and goals that are established in the buying process are met. That said, client retention is incredibly important for growing a sustainable business. Yes, companies that focus on new customer acquisition can still grow, but the cost of client acquisition will impact the company's profitability. If you want to recoup all of the marketing investment it takes to get those new customers, you have to make sure that they stick around and become repeat customers.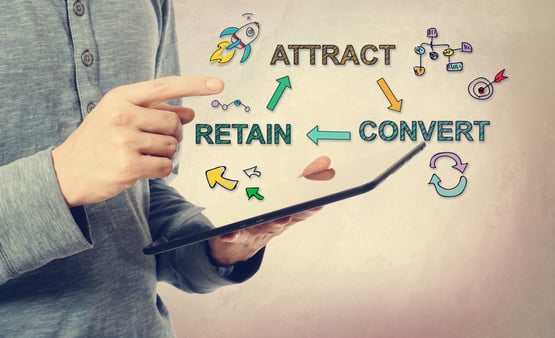 Maintaining Trust
As the age old saying goes, you do business with people you trust. As trust increases, commitment tends to grow. We have developed a relationship marketing strategy that builds this trust and makes our client more than just a vendor to their customers.
Maintaining trust requires a proactive approach to customer service. Instead of waiting for a problem to occur, we identify clients that are at-risk and address and eliminate any concerns before they result in the client leaving. In an ideal world, there is an open and frank dialogue with the customer that will identify these areas of concern. However, this conversation does not always take place - or the individuals who are hearing the concern do not appreciate its significance or pass it along quickly enough to impact the outcome.
To measure their customer's expectations and evaluate the health of the engagement, marketing should take the customer's pulse through a process of surveys and interviews. This will allow marketers to identify a potential problem (or an opportunity) long before it becomes a client-leaving event.
Becoming your customers' trusted advisor probably earned you their initial business. Remaining their trusted advisor will build customer loyalty and reduce customer churn. Your customers will trust you, rely on you to give the best advice, and recognize you as an integral part of their business success.
Client Nurturing
"Customer" is simply another stage in the buying cycle, which means that, unless you have a business model where a customer's purchase is a one-and-done experience, every company needs to implement an ongoing client-based nurturing program. This nurturing goes beyond the bare minimum obligation of supplying your product or service, and its purpose is to continuously remind the client that their decision to purchase from you was a sound investment.
To carry out this client nurturing, continue to share thought leadership, product tips, ideas, and other relevant content that will help your customer. This may include monthly newsletters, customer-focused eBooks and blogs, or quarterly client-only webinars that bring third-party guests and influencers that are respected by the client community.
When customers are consistently given valuable information, this creates a durable bond of loyalty and establishes you as a trusted business advisor.
KPIs
It is imperative that the customer retention activity, customer engagement, and actual retention metrics are tracked on a monthly basis. When EYEMAGINE engages a customer retention program, 12 KPIs are tracked and measured. Many of these are precursors that will identify potential problems months before they reach a critical state.
Client Influencer/Advocacy Program
People influence people. Nothing influences people more than a recommendation from a trusted friend. A trusted referral influences people more than the best broadcast message. A trusted referral is the Holy Grail of Advertising - Mark Zuckerberg.
Recommendations are powerful. When someone who has tried your product or service makes a recommendation, 92% of people will rely on that recommendation - even when it comes from a stranger. This means that an influencer marketing program can be an extremely powerful tool. To generate an effective influencer marketing program, you need to identify, educate, and nurture individuals who have a large social reach or amplify your existing customers and turn them into influencers or advocates.
Customers already understand the unique value proposition of your brand, and if they have had a good experience will most likely share their experience and make recommendations. To accomplish this, you will need to build a community, a means for them to share, and provide an incentive for them to share. A marketing agency is ideally suited for running campaigns of this type. Depending on your needs and budget, this campaign can be as basic as a Facebook Community or as sophisticated as using Gamification to Harness an Army of Brand Advocates.
It is important to note that this is not meant to be an all-encompassing list of what can or should be done to ensure that marketing and sales are aligned. These are focused activities that EYEMAGINE has found will grow your business. We recognize that every client presents a unique set of circumstances and challenges and that the best combination of strategies will vary accordingly.
If you think your business growth could benefit from seeing more alignment between your marketing and sales departments, give us a call and we will explore the possibilities with you.