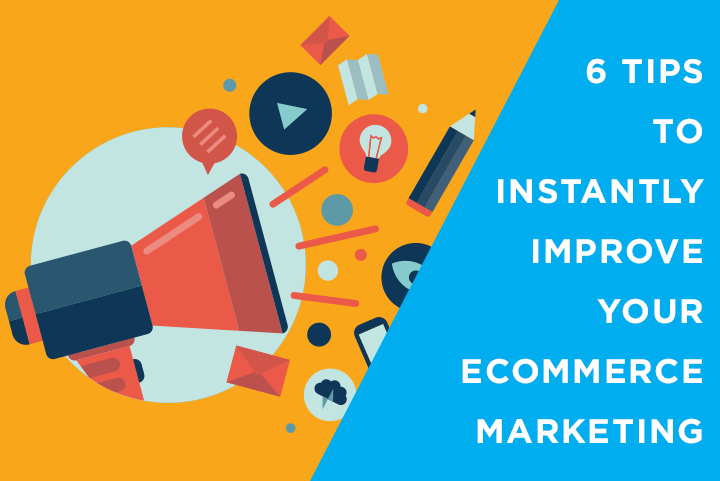 Knowing which features of your marketing strategy to emphasize, and which to scale back, is important for continued success. Here are 6 tips to consider when deciding what to eliminate or include in your current eCommerce marketing campaign.
Improve Your eCommerce Marketing
1. KEYWORDS AREN'T ENOUGH
Search engine optimization is a term the eCommerce marketing world is very familiar with. However, focusing solely on keywords won't get you the most out of your SEO efforts. Google's algorithms are much more sophisticated than they were even a few years ago, you need to expand your SEO accordingly.
2. BLOG CORRECTLY
Blogging is a useful eCommerce marketing tool. But as with most things, quality is more important than quantity. Churning out poorly-written blog posts will have an adverse effect on your business. Not only will customers ignore you, Google will too and that's a death sentence. Going along with that, press releases aren't needed. They do little, if anything, to increase conversions. Instead, focus on writing blog posts people will enjoy reading and that will drive conversations and conversions.

3. KEEP OFFERS FRESH
The offers you hope to entice customers with need to be fresh, exciting, and plentiful. Don't get discouraged if your top traffic source starts slipping sooner than expected. People like to stay current; cater to that. Once you've figured out what your customers want, use your eCommerce marketing skills to figure out a way to make it even better.
4. INBOUND MARKETING IS A MUST
eCommerce marketing and inbound marketing go hand in hand. If you don't have an inbound marketing campaign, it's time to start one. Create dynamic content that makes people want to do business with you. That doesn't just mean buying from you either, it means talking about your business. It may be through social media sites or a product review website, but good inbound marketing creates relationships between customers and the company.

5. FOCUS ON THE IMPORTANT NUMBERS
Over-reporting has become increasingly popular even though it's completely unnecessary. Find the most important metrics and focus on those. If you're analyzing and reporting on numbers that have no impact on your business you're wasting your time. An eCommerce marketing campaign isn't defined by pages and pages of useless statistics. Don't complicate things, sometimes the best way is also the simplest.
6. SOCIALIZE EFFECTIVELY
Don't be overly social, only use the social media sites that work best for what you're doing. There is no shame in not having an Instagram account if it doesn't benefit you. Use your eCommerce marketing resources on sites that help your business. Wasting time and effort equates to wasting money.
CONCLUSION
If your eCommerce marketing campaigns aren't bringing the results you think they should, it's time to figure out why. There is no such thing as complacency in marketing, if you're not moving forward, you're moving backwards. For a more in-depth a look at what you should cut from your marketing efforts, download our free eBook.