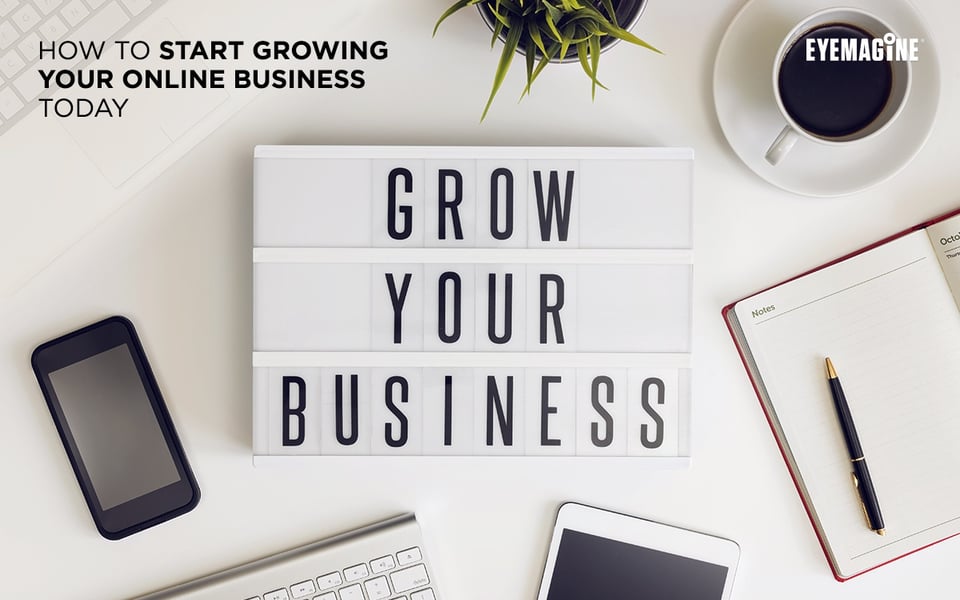 Online retail sales in the U.S. will exceed $500 billion by 2020, according to one of Forrester's recent eCommerce forecasts.
$500 billion is a big pie, and as a merchant, you want to grow and have a share of it.
Another one of Forrester's findings was that web merchants are becoming more effective in reaching customers and transacting with them online.
As customers and technology evolve, so must your business.
In this blog post, we'll cover several key steps to take to start expanding your online business today.
How To Grow Your Online Business
Track Your Success
The world of eCommerce is constantly evolving, so it's essential to keep track of what's working and what is no longer efficient.
Start by answering the question: what does success look like for your online business? Is it revenue, traffic, customers, or all of the above?
You need to clearly define your goals to have a successful eCommerce business.
Next, break down your year's goals into quarters and months. Go into detail on what exactly success will look like at the end of each quarter or month.
Use a simple spreadsheet to create a report card and review it at the end of each month to measure your success. If you're not on track to reaching your goals, discuss what needs to be changed.
Outline a Marketing Strategy
Your marketing strategy is key to successfully reaching your goals, but there isn't a one-size-fits-all plan for every online business.
Your company is unique, so you need a unique strategy.
The competitive landscape you live in, your historic growth, and your strategic vision will all affect your marketing plan.
For more details on how to craft an effective strategy, check out our eBook on the Inbound Commerce methodology. In it we document authoritative and actionable strategies for marketing success.
Setup an Inbound Marketing Consultation
Gather Data
Peter Drucker, the father of modern management, said, "What gets measured gets managed."
Data should guide most, if not all, decisions related to executing your marketing strategy.
After breaking down strategy into tactics, the success of those tactics must be quantifiably measured. Here are a couple tools you can use to do so.
Google Analytics
Use Google Analytics to understand your incoming web traffic, conversion rates, traffic sources, and traffic spikes.
Create goals to measure campaign success. For starters, set up these four Google Analytics goal types recommended by our friends at Kissmetrics.
Alexa
How does your online store compare to your competition? What are your competitors doing that you're not?
Use Alexa to find out how your online business is ranking in search engines compared to your competitors, as well as what keywords they're targeting that might work for you too.
Moz
The Moz tool allows you to analyze your website and discover search engine optimization issues.
Moz will tell you what your site is doing incorrectly, and by quickly resolving these problems you'll be better poised for growth.
Optimize for Search Engines
Is your online business easy for Google and other search engines to find?
Your eCommerce website could be making it harder for you to rank high on search results.
Search engine optimization (SEO) is the act of making improvements to a website so that it can perform better on search engine results pages. Here are a couple things that affect your ranking.
Mobile Responsiveness
Google favors mobile responsive websites. If your site is not mobile-friendly, it will be held against your page ranking, making it easy for a competitor to take your spot.
Upgrade your website design and user interface to display effectively on tablets, smartphones, and desktops.
We have had clients report over 80% in year-over-year revenue growth after replatforming to a mobile responsive Magento store.
Performance
Page load time plays a major role in search engine optimization. If your website loads quickly (under two seconds) you have an advantage over competitors.
The longer it takes to load a page, the lower your page ranking will be. Improve this metric by using server caching applications, content delivery networks (CDNs), autoscaling, optimized code, optimized graphics, and client-side caching.
Tools like Google's Page Speed Analyzer and YSlow! will point you in the right direction.
SEE ALSO: eCommerce Needs Speed: The Value of VARNISH Cache and Fast Page Loads
Invest in Influencer Marketing
When was the last time a salesperson convinced you to buy a product? I'm talking about the old days when you walked into a store, didn't know what you wanted, and a salesperson proceeded to educate, promote, endorse, and sell you a product or service?
You may not relate to this scenario if you had a smartphone when you were in grade school. Take my word for it, that actually happened.
Modern retail happens online and buyers are now gaining knowledge of products and services on their own. Sixty percent of purchase research is done online before even visiting a brand's site, and 74% of buyers rely on social networks to guide purchases.
Because of this, it's important for your online business to invest in influencer marketing.
Influencer marketing is a combination of social media marketing, earned media, gamification, and public relations. Its purpose is to find influencers in your industry who will become advocates of your brand, and it's extremely effective.
Find out more about influencer marketing, here.
Reach Out to Legacy Customers
How long has your online business been around? How many of your customers haven't placed an order in over 12 months? We'll refer to these buyers as "legacy customers."
These are customers that know your brand and have, at one time, had enough trust to make a transaction. You want these customers to come back.
This is where mining your data becomes important.
Reach out to those legacy customers and offer them something unique, something special, something that you are only going to offer to them.
Worried about giving away the farm? Compare the cost of incentivizing your legacy customers with the cost of new customer acquisition.
In practically every case, your cost of acquiring the new customer is going to be profoundly higher.
Online business growth happens as a result of executing the above strategies, and more.
Your complete plan will undoubtedly be more unique to your business, but this is an excellent place to start.
If your business needs help reaching its growth goals or creating a unique strategy, talk to an expert now. Don't let another day go by where you miss opportunities online.
Our team is comprised of talented, experienced, and certified professionals that know how to get your online business the success you need. Contact us today.