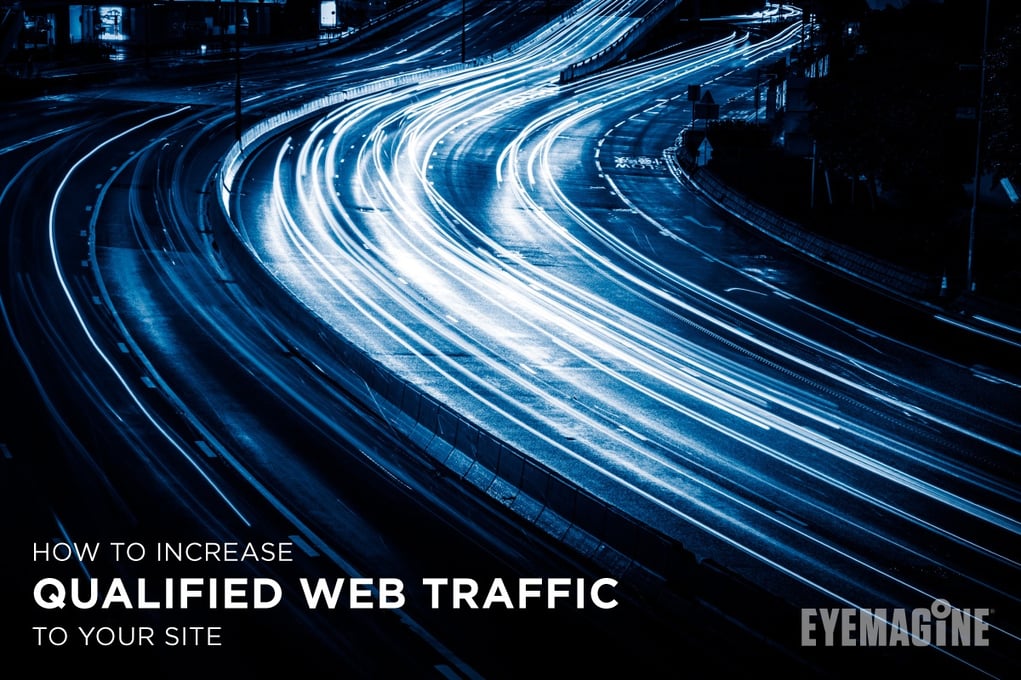 A huge misconception in marketing is that any traffic is good traffic: many marketers simply think "the more the better" and develop strategies that cast the widest net possible. There is solid reasoning behind this logic— if a company doesn't have an audience, they don't have a business. However, there is much more to it than that. To be truly successful, an online business has to maximize the qualified traffic that comes to their site.
Qualified traffic can be loosely defined as anyone who is actively searching for the product or service that your company offers— or, in other words, people that will actually buy or contribute to your business. Increasing your qualified traffic is essential to any online business. Think about it: if you get 1,000 people to your website and 900 of them are simply browsing or looking for something slightly different than what you offer, then you won't get high conversions or ROI. You want to change this ratio and make sure that the people you are attracting are there to convert.
Here, we break down how to increase your qualified traffic and attract quality leads to your site.
Create Clearly Defined Personas
In order to increase the qualified traffic to your site, you need to have a clear idea of your target market and your buyer personas. If you don't have a solid understanding of your audience, you won't know how to segment them and deliver content that they find interesting, helpful or compelling.
This requires data, research, and testing. Do not rely on a hunch or a "best guess" of who your buyer persona could be. Instead, use real research and interview your prospects and current customers to understand the bigger picture. The more specific the better: you need to completely understand their behaviors, challenges, needs and wants in order to create content that speaks directly to them and effectively addresses their pain points.
SEE ALSO: 6 User Experience (UX) Tips That Will Unlock eCommerce Success
Develop Your Keyword Strategy
Once you know who you are talking to, you need to determine exactly what they are searching for and what they want to hear - and make sure that your site gives them exactly that.
Use a keyword research tool like Moz or Google Analytics to find high-performing long-tail keywords that you have an opportunity to rank for, and start incorporating those into your website pages, blog posts, social media content and emails.
The first step in finding these keywords is to look at your search query data or conduct interviews to figure out what words your audience is using to find your brand or similar products on search engines. Compile a list in a central location. Once again, don't forget to use your client interactions and feedback to inform this list. If you have a Q&A section, look at what questions your site visitors are asking and how they are wording those questions. The point, once again, is to inform your keyword strategy with data and examples. Then, evaluate the content's performance to further refine your strategy.
Remember, people don't want to be spammed or sold— they want authentic interactions and helpful information. Make sure that your pages don't look like you're just trying to cover certain buzz words and rank on the search engines.
Maintain Brand Consistency & Brand Identity
If you want to increase the qualified traffic to your site, everything about your brand should be consistent, well-developed and well-rounded. Once again, the direction that this brand identity takes should be based primarily on your target goals and the interests of your personas. Ask yourself: what will they find aesthetically pleasing (color scheme, fonts, etc)? What kind of content do they want to see? What kind of language and engagement will they be attracted to? Don't limit your own company's vision or desires here, but rather keep in mind that you are building your brand for others to enjoy, not for yourselves.
A good way to start is by focusing on your "Big 5," or the most important pages on your website. For an eCommerce retailer, for example, these pages would be the homepage, the product page, the category list, the search page and the shopping cart. Develop a thorough branding strategy for these pages, and use these as a template for the rest of the pages on your site.
Technically speaking, the main things to focus on when developing a branding and design strategy are:
Language

Color scheme

Integrations with social media or blog content

User experience: intuitive navigation, search, shopping cart

Photography

Page organization
Once you have developed the main pages of your site, conduct A/B testing to test client engagement and the effectiveness of your choices.
SEE ALSO: The Top 3 Factors that Trigger eCommerce Retailers to Redesign
Deliver Consistent High-Quality Content
You should consistently be producing content for people in every stage of the buyer's journey:
Awareness

: Whitepapers, eBooks, blog posts, checklists, educational webinars, etc. Make sure this content is educational and interesting.

Consideration

: case studies, FAQ sheets, demo videos, data. Build an awareness between the audience and your product or brand.

Decision:

Coupon, discount, free trial, consultation, demo. They are ready to buy, so give them the right offer.
Once again, it is important to make sure that this is high-quality content that is being seen by the right people at the right time. If you target customers when they are not ready for you, your marketing will come off as impersonal and unappealing. Someone getting a free trial offer for your product when they're looking for an informative blog, for example, will be extremely turned off-- even if the offer is something that they will eventually be interested in.
Creating this content is not enough. For it to be successful, you have to have great promotion as well. When coming up with your promotion strategy and choosing a social media platform, it is important to consider your persona, where they spend their online time and what will reach them. A very technical, educational company, for example, will likely find more success with long-form content on LinkedIn or Reddit, while a trendy clothing company may feel more at home on Twitter or Instagram.
Having a well-defined, accurate keyword strategy and consistently getting that content out there will help you become the relevant authority and destination for your product or service.
Pay-Per-Click Advertising
Pay-per-click advertising (PPC) can be a useful tool to attract the kind of long-term, qualified web traffic that you are looking for. With PPC, you have the ability to select the keywords, location, and even the demographics that you have decided to target. You can also put those ads on the social media of your choice. This can be much more effective than a run-of-the-mill, blanket advertising campaign since you have the ability to target qualified traffic from the get-go.
Once you have your PPC campaigns going, make sure to check back and see how they are performing. This could give you key insights into how your strategy is working and help you see what region or target group is showing the most interest in your ads, which can help you further segment down the line.
Turn Down Unqualified Leads
More often than not, this idea tends to go against the grain— after all, It's always difficult to face the idea of turning down customers. In certain cases, however, it may be necessary to turn down unqualified traffic.
Yes, this can seem counterintuitive, which is why it can be tempting for marketers to advertise using general language so that you'll cast a wider net. For example, companies often use the terminology "Huge sale" or "Find your perfect x now!" Yes, this may bring more people to your site. However, if the sale is not huge or if there are people just looking for freebies, those site visitors will just bounce or make a small one-time purchase that really doesn't give you good ROI.
Instead, use targeted language and ads that accurately reflect what you provide (and thereby attract customers with real, long-term interest). And if you provide a service and find a customer that isn't the best fit, it is ok to choose to focus your efforts elsewhere. The key, once again, is long-term prosperity, and it is important to keep that in mind every step of the way in order to bring the qualified web traffic that your company really needs.