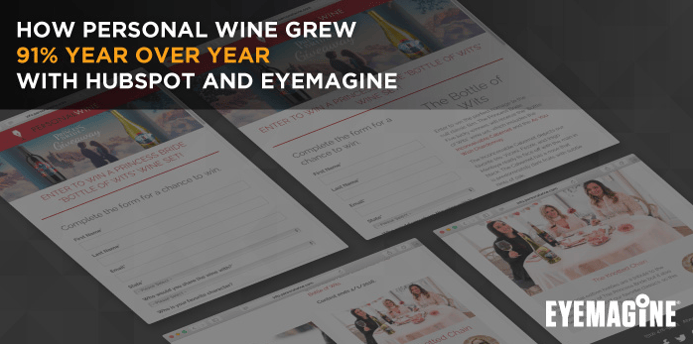 Personal Wine is a Texas-based eCommerce retailer that helps its customers create personalized wine gifts with custom labels or engravings, suitable for any occasion. Before partnering with EYEMAGINE, a HubSpot Platinum Partner, Personal Wine was already growing at a healthy rate, with a 35% increase in website visits and 77% increase in revenue over the previous year.
While Personal Wine was employing some inbound marketing practices prior to using HubSpot, the company was looking to take its growth to a new level by teaming up with a HubSpot Partner Agency. After turning to HubSpot and EYEMAGINE for inbound marketing automation support, the company saw increases of over 101% in traffic and over 91% in revenue, year-over-year.
Year-Over-Year Traffic Increase Before working with a HubSpot Partner Agency: +35%

Year-Over-Year Traffic Increase After Working with a HubSpot Partner Agency: +101%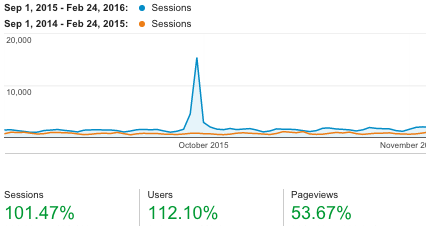 Year-Over-Year Revenue Increase Before Working with HubSpot Partner Agency: +78%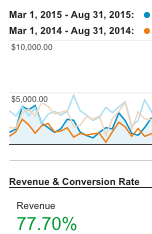 Year-Over-Year Revenue Increase After Working with HubSpot Partner Agency: +91%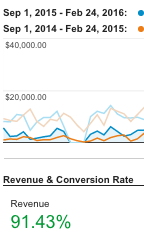 Why Work With a HubSpot Partner Agency?
The Personal Wine team was actively creating educational blog content and publishing engaging social media prior to using HubSpot. However, as a result of the company's stellar growth, the team's internal bandwidth and ability to consistently create content started to diminish. Personal Wine realized the pressing need to turn to a platform like HubSpot and rely on an agency to carry out day-to-day inbound marketing strategy and execution. The upsides? By working with a HubSpot Partner Agency, the quickly-growing company could:
Publish fresh and engaging content on a consistent basis
Generate new contacts and segment existing contacts with high-value offers
Establish an inbound marketing automation system that works to convert contacts into customers with no additional effort
Receive detailed reporting and analysis on inbound marketing campaigns to help inform future decisions
How Growth Was Achieved and Sustained:
The first step for Personal Wine was to integrate its existing eCommerce technology with the HubSpot Marketing Automation Platform. With EYEMAGINE's guidance, Personal Wine's technical team created a custom integration that pulled all of its customer data into HubSpot. With this data, EYEMAGINE's inbound marketing team was able to analyze their customer data and create campaigns targeted to different customer segments.
Specifically, the custom eCommerce integration with HubSpot allowed for the team to create:
Segmented and targeted email marketing campaigns
Abandoned cart recovery email sequences
Giveaways and offers to segment the database and generate new contacts
A new and improved subscriber nurturing email sequence
Engaging, traffic-boosting blog posts written based on Personal Wine's buyer personas and keyword opportunities
Email Campaigns and Automation: Breaking It Down With Data
Abandoned Cart Recovery:
The custom eCommerce integration for HubSpot that Personal Wine had built allowed for EYEMAGINE to implement an abandoned cart email automation sequence. Customers' existing abandoned cart information and past order history was pulled into HubSpot. This information was crucial, as it allowed personalized emails to be sent to the customers who had abandoned their cart.
An exact image of the product the customer placed in his/her cart, coupled with a personally addressed plain text email directly from a Personal Wine customer service representative, effectively encouraged cart abandoners to return to their cart to complete the order.
Overall, this workflow performed well above industry standards, with:
11.52%

click-through rate for the email sent 1 hour after cart abandonment

6.99%

click-through rate for the email sent 24 hours after cart abandonment

4.33%

conversion rate for cart abandoners to complete their orders
The eCommerce industry average for conversion rate is about 1.85% and the eCommerce industry average for email click through rate is about 2.5% . Personal Wine's conversion rate for this email sequence is over double the industry average, and its email click through rate is over triple the average for abandoned carts. 4.33% of the people who were not going to complete their order were encouraged to go back to the site to complete their order, which is a huge benefit for any eCommerce business.
Database Segmentation and Lead Generation Offers:
As a critical step to Personal Wine's inbound marketing program, EYEMAGINE developed and executed giveaway offers to organize its large database into buyer personas. High-value giveaway items were selected for campaigns to effectively organize Personal Wine's contact database into their appropriate segments. Having a segmented database allows Personal Wine to have more successful and targeted campaigns in the future, because it ensured that emails and content are reaching the right audience.
A landing page that was designed to segment contacts into buyer personas, for example, had a 39.98% conversion rate; nearly 5% of the entire database that was emailed was effectively reengaged by the offer.
The following is a landing page for a campaign designed to attract Personal Wine's large social network to enter the email database: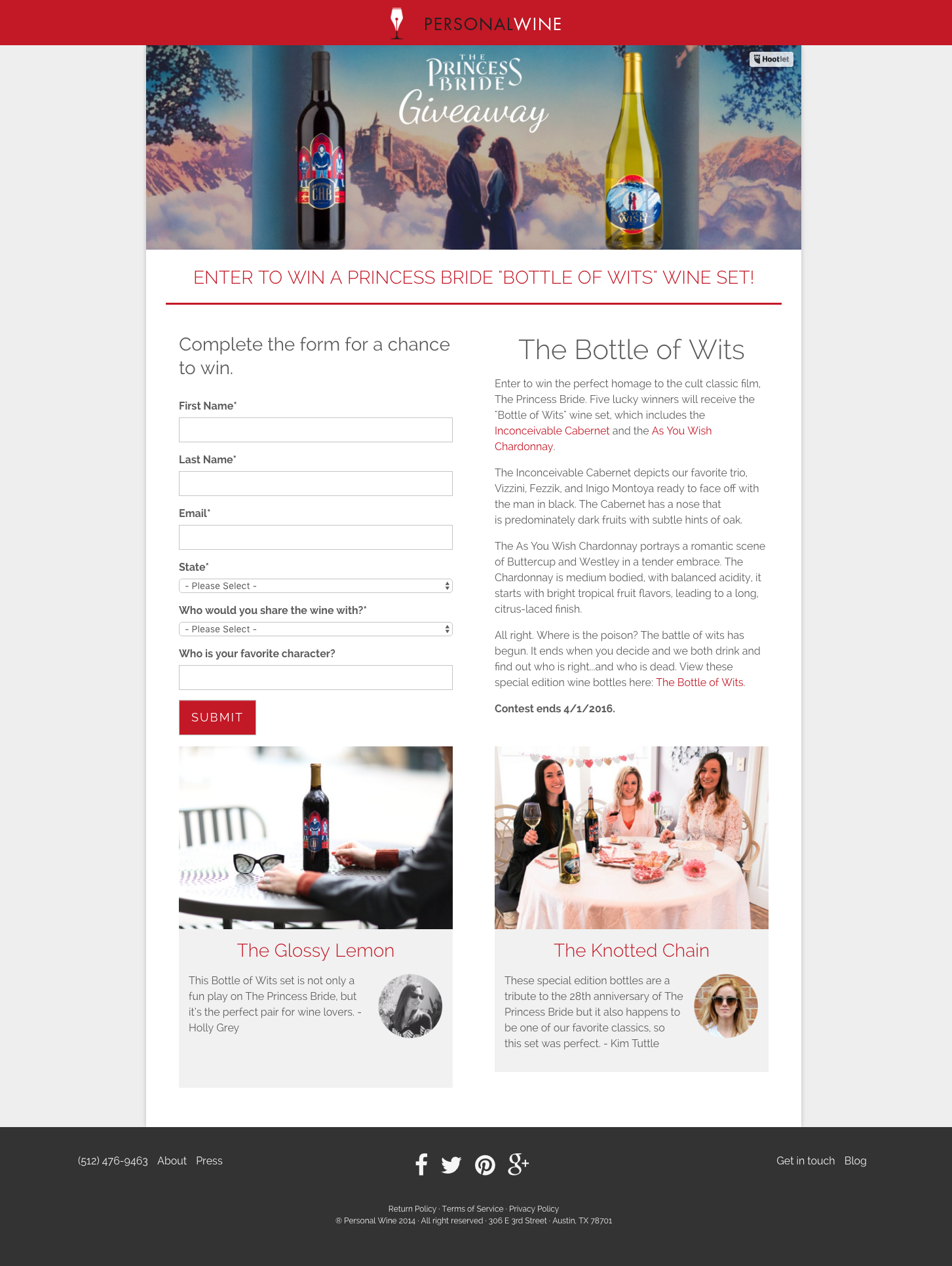 Of the people who viewed the page, an impressive 66% converted on the page, 30% of which were brand new database contacts.
New Subscriber Nurturing Sequence:
In an effort to capture new database contacts, Personal Wine offers every new visitor a 15% coupon for signing up as a subscriber. As a follow-up to this offer, an email was sent to each new subscriber with the coupon code that he/she could use to take advantage of the discount. The EYEMAGINE team revamped and enhanced this email automation sequence to include a second reminder email if the contact didn't convert after the first email. The series included animated graphics to grab the recipient's attention and encouraging them to click. This campaign had a staggering 21.47% conversion rate, which is almost 20% above the 1.85% industry standard.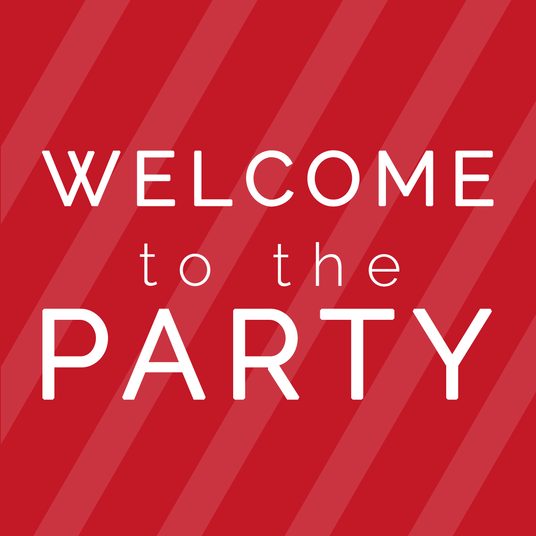 Blogging & Influencer Outreach
To drive more qualified traffic to the Personal Wine site, EYEMAGINE worked to create consistent, targeted content for the Personal Wine Blog. The EYEMAGINE team:
wrote blogs with specific personas in mind
re-optimized existing blogs that had attractive keyword ranking opportunities
created new blogs using keyword optimization strategies
collaborated with blog influencers to create high-value product reviews
A popular topic for guest bloggers was Personal Wine's The Princess Wine collection of bottles. This was featured on various blogs, including:
Blondie in the City: The Princess Bride Wine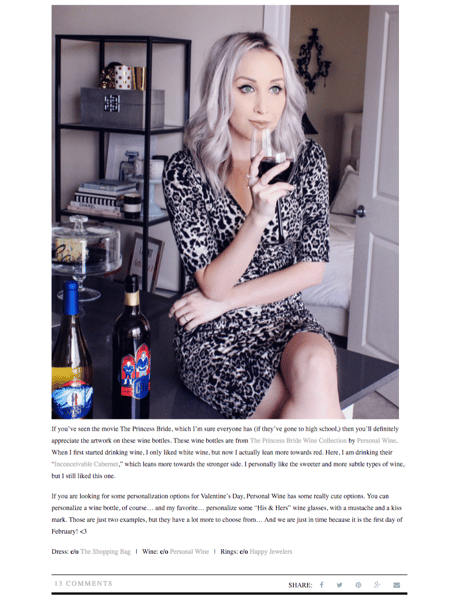 Chica Fashion: Review: Personal Wine- Princess Bride - Bottle of Wits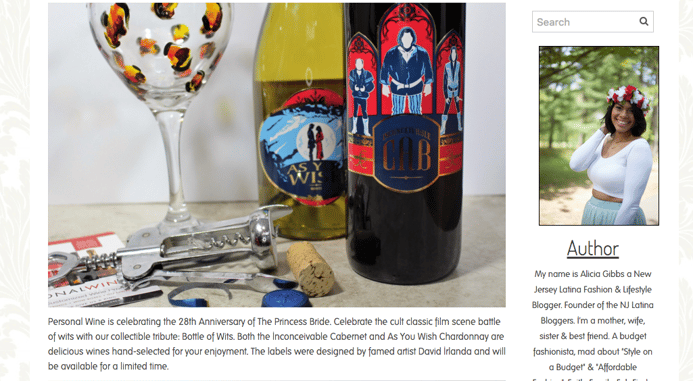 The Results
Overall, traffic and revenue to Personal Wine's website increased dramatically due an enhanced blogger outreach strategy and automated email campaigns. The HubSpot emails and automation sequences were among the most profitable email campaigns that Personal Wine has seen, to date.
By using the HubSpot tools, EYEMAGINE was able to effectively highlight everything that Personal Wine has increased year-over-year traffic to its website over 101% and boosting revenue to 91%. Personal Wine and EYEMAGINE are both looking forward to continued success in their partnership.