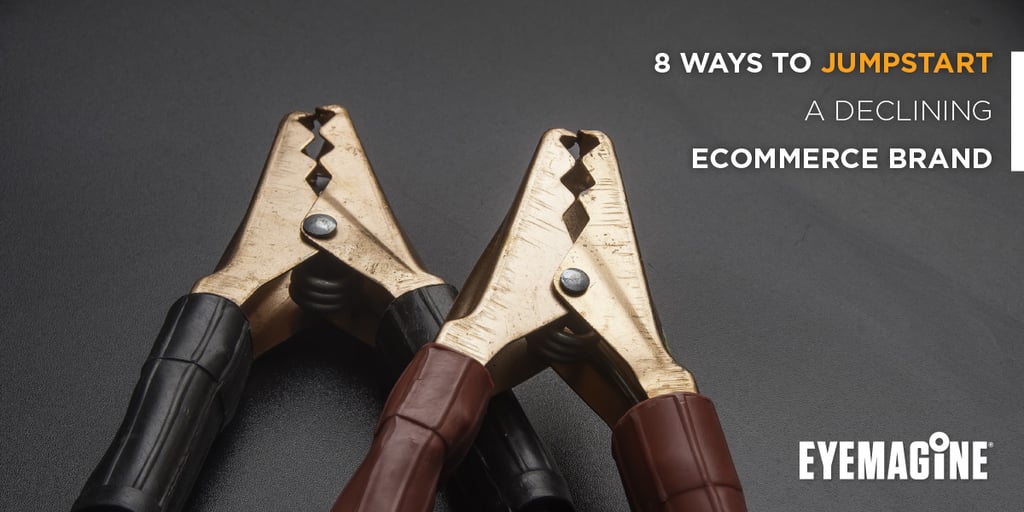 Many of the online retailers that are reading this have already begun to see signs that their eCommerce store is on the decline.
This may seem harsh, but it's the reality: a full 50% of companies fail in the first 5 years, and up to 90% of new eCommerce businesses fail as quickly as the first 120 days. The good news? You don't have to be a part of this statistic, and a decline in your traffic or customers does not necessarily mean the death of your business - it just means that meaningful changes in operations, site development and marketing strategy have to be made.
To jumpstart a declining eCommerce store, online retailers should start small - with what we'll call "internal changes" - and work their way up to more labor-intensive "external changes."
Internal Changes
1. Be Transparent
:The fact that your company is experiencing problems cannot and should not be kept secret for long. Eventually, everyone in your company is going to know that something is going on, and if the issues are not addressed it will only lead to confusion, uneasiness and rumors. This will hurt your business no matter what: your team cannot stand behind you, develop a strategy and effectively help you solve the problem if they don't know what is going on.
To avoid these issues, it is always better to address the problems head-on and become transparent in your decision-making process. Not only can your employees provide key support and insight, but they will also be less likely to jump ship if they see that you've identified the problem and are taking steps in the right direction. This, of course, does not mean that you have to show your financial statements to everyone in your business - it just means that you should maintain a productive internal dialogue.
2. Hire an eCommerce Marketing Agency
In these situations, a fresh set of eyes is always helpful: getting a third party's objective, expert opinion can provide invaluable insight into the state of your business and what needs to be done to get it back on track. No one will know the ins and outs of your company as well as you do, but an eCommerce marketing agency will likely have a more well-rounded sense of what the current online landscape looks like in your industry: they wil know what audiences are interested in, what products are selling, and what marketing efforts are the most "buzz-worthy" and effective for a particular demographic. With this knowledge, they could provide a fresh perspective or help take your business in an exciting, relevant direction. On top of that, online marketing agencies work with declining and stagnated businesses every day, meaning that they know what strategies will bring new traction quickly and effectively. It can't hurt to reach out and see what they have to say.
3. Reduce Your Workforce
While cutting costs in the form of a workforce reduction is never the ideal answer to business problems, it does curtail immediate expenses and allow you to use those resources elsewhere.
That said, this option is at the bottom of the "Internal Changes" list for a reason: it can be the most difficult choice and it's a decision that should not be taken lightly. Often times, it's much more effective to shift the roles of certain employees to reflect new strategies and business models. That said, sometimes reducing your workforce is a necessary step to bring a failing business back from the brink.
External Changes
4. Focus
There are millions of eCommerce stores operating today, and most are selling some version of a product or service that is already on the market. The struggle for many retailers, then, is finding a way to differentiate themselves from their competitors and convince their site visitors that they are the company to buy from. Many try to accomplish this by casting a wider net, thinking that if they target a huge range of people or offer more products, something will work out.
This strategy doesn't work: when a company tries to target everyone, they don't end up reaching anyone. Especially for a young or struggling eCommerce business, a lack of focus simply confuses customers, strains resources and muddies the overall direction and strategy of the company. In short, trying to do too much can kill an online business.
To avoid this, focus on developing your own unique niche and getting to know your customers' pain points, interests, and desires. Then, attract them to your site with products, content and marketing that speaks directly to them. This approach will not only provide your team with more clarity and direction, but also help establish your company as an authority and an online destination.
5. Re-market
After you've focused your efforts and identified your target customer, make sure to use inbound marketing strategies that appeal to that specific segment of the population. Website visitors respond to personalization: they want to feel like the company that they are purchasing from "gets" them and can provide them with exactly what they are looking for. This can look very different depending on factors like industry and demographic. A company that sells biology textbooks, for example, may do best by providing science-related educational content, tutoring resources, and marketing themselves on LinkedIn or Reddit. On the other hand, a company that sells trendy teen clothing might do better by posting the latest outfits on Instagram, developing a "Celebrity Style" blog or sending out seasonal lookbook workflows.
In any case, retailers have to fully understand their buyer personas and their interests in order to present their product, service and expertise in a way that is attractive and relevant to their target demographic.
SEE ALSO: 6 User Experience (UX) Tips That Will Unlock eCommerce Success
6. Re-brand
Sometimes, re-marketing requires re-branding. This could mean a small shift in design or a complete overhaul that appeals to your target audience and matches your refocused brand voice. For our biology textbook company, for example, an effective re-branding strategy would entail a more formal style guide, clean packaging, elevated educational language, and a muted color scheme. Conversely, the trendy teen clothing company's re-brand might call for loud colors, a casual brand voice that incorprates slang, pop culture references and a fun or interactive navigation.
These kinds of efforts can help a declining business effectively reinvent itself and revitalize its image without having to change any products or services.
7. Pivot
Sometimes, examining the business with an unbiased eye can lead to a complete change in direction. Perhaps, for example, your main product isn't converting well and something else is actually more appealing to your customers. You have to keep an eye out for these kinds of trends and be open to shifting your attention and focus. This kind of change in the business' direction can certainly be daunting, but it can save a struggling business from going under. Ultimately, you have to give your customers what they're looking for if you want to succeed.
Wrigley's (the chewing gum company) didn't always sell gum: William Wrigley Jr. originally sold soap. However, he began to notice that his clients were more interested in the baking soda he gave away with his product than they were in the soap, so he pivoted to focus on selling the baking soda and gave away chewing gum instead. When his clients then began showing more interest in the gum he was giving away, he shifted his efforts again to focus on that - and the rest is history.
In order to succeed, then, eCommerce retailers have to have flexibility and the ability to interact with the market - sticking by a floundering product idea due to pride, investment, or emotional attachment can send a retailer's business right down the drain.
8. Try Something New
It's only natural to play it safe during difficult times, but when a business is failing, it's often more productive to do the unnatural - after all, it is your current strategy that got you where you are now, so staying the course may not be the best idea. This is the time, then, to try something bold, different and out of the box. While this can be a risk, the fact is that these risks fan pay off dramatically.
Take, for example, Private White, a U.K. clothing manufacturer. The company was simply not getting results and it was on the verge of going under. Then, it's new (young) CEO took a huge risk and decided to transition from only manufacturing to manufacturing and online retail. This required a complete change in strategy, more employees and a big financial investment.
In the four years since it made that move, Private White has grown 50% year after year. Bold moves can pay off and save an eCommerce business.
Conclusion
Sometimes, a failing business can be saved. Sometimes it can't and sale or closure is the only option. However, before you resign yourself to the worst, it's important that you try everything you can to increase your revenue and turn things around. Making use of the eight changes outlined above and using them to develop an effective eCommerce strategy will help you do just that and get your ailing business back on its feet today.