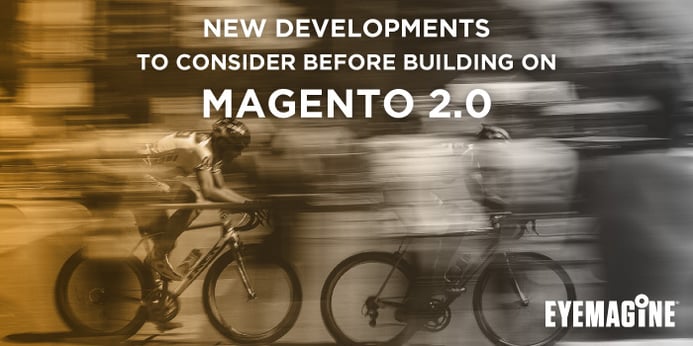 The eCommerce market is dying to make the switch to the Magento 2 platform. It is easy to see why: it's exciting, new, and has a lot of promise.
So, is now the time to use Magento 2 in a production environment? Let's dive into the details.
Recently, Nexcess released a whitepaper that explains Magento 2's site performance and scalability optimizations. In this white paper, a series of benchmark tests compared Magento Enterprise Edition 2 and Magento Enterprise Edition 1.14.2, concluding that Magento 2 dramatically outperformed Magento 1.
"Tests revealed that Magento Enterprise Edition 2.0, with its performance enhancements, tight integration with Varnish, and support for PHP 7, delivers higher throughput (orders/hour) and faster server response times across the board for both small and large merchant deployments."
The overall focus was on page load speed, PHP 7 and Varnish cache. These results are big news about Magento 2's progress. There are specific areas of concern with the methods that were used to reach these conclusions. We want to point them out for your consideration.
The test configurations pitted:
Magento 2
PHP 7
Varnish caching for Full Page Cache (FPC)
against...
Magento 1
PHP 5
PHP-based Full Page Caching
Why Does This Matter?
These architectures are not similar enough to produce an apples-to-apples comparison. However, the PHP 7 architecture is not a recommended or supported configuration for Magento 1. As a result, the playing field was not leveled. This guaranteed that Magento 2 would dramatically outperform Magento 1 because PHP 7 and Varnish are both vastly superior enhancements to any stack. PHP 5 and a PHP-based Full Page Cache system just can't compete with PHP 7 and Varnish.
It is like racing a brand new car, right off of the dealer showroom, against same brand new car with extra turbochargers. The souped up car will win by a landslide, but the contest will not be an apples-to-apples comparison. To have an accurate comparison of performance between the two versions Magento, the architectures practically identical.
Magento 2
Even though the methodology impacted the results, it is important to emphasize that this official push for the use of PHP 7 and Varnish cache with Magento 2 is a breakthrough. After Magento 2 was released, one of the big issues was the extremely slow page load speed that came with the out-of-the-box Varnish system. The problem with speed can be detrimental to any eCommerce business. The Magento 2 merchant should beware of use in a production environment.
However, Magento's new implementation of the Varnish and PHP 7 features addresses this issue and represents a fantastic leap forward for the Magento 2 platform. Why? With a valid properly-configured Varnish cache on PHP 7, Magento 2 can deliver acceptable page load speed.
Varnish and PHP 7 Increase Revenue and Profit
So what is all the hype about? Varnish cache is the best caching solution for Magento: it has an unparalleled ability to drastically increase page load speed and allow sites to handle more traffic gracefully. The result is more revenue and more profit for an eCommerce site.
PHP 7 is the greatest improvement that PHP has produced in over 12 years. Benchmarks show that PHP 7 greatly improves site performance and speed: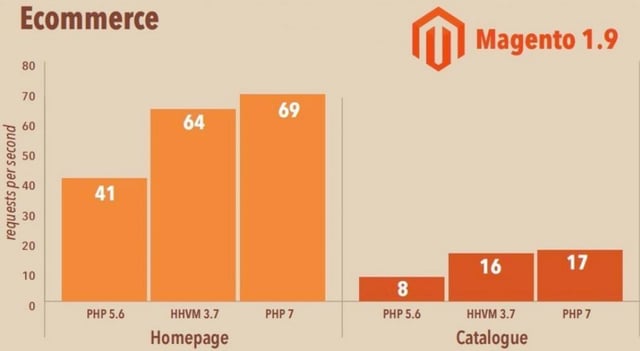 What Does This Mean For My Business?
Unfortunately, this does not necessarily mean that Magento 2 is ready for production environments, especially for online businesses in revenue. Despite these features, Magento 2 still has many bugs and open issues that need to be addressed before the software should be considered stable. Specifically, there are over 1,000 open known issues in the Magento 2 codebase, as of writing this article. The Magento team is working hard to resolve them, but until that number drops significantly, we can not ethically recommend the platform as a production-ready stable eCommerce solution.
Are you eager to replatform to Magento 2? We recommend staying up-to-date on the improvements. Wait until these open bugs and issues are resolved before making the transition.
SEE ALSO: 11 Magento Training Videos to Help You Master Magento
Magento 2 is the Future
We at EYEMAGINE think that Magento 2 has great potential for delivering success in eCommerce. The talented community behind Magento makes it great, and we believe that Magento 2 is the future. However, we advise our clients to enter this future in a stable and secure fashion.
If you're not sure when or how to switch over to a new platform, consult an eCommerce specialist today. Our knowledgable and experienced team, comprised of Magento experts, is standing by to assist you.