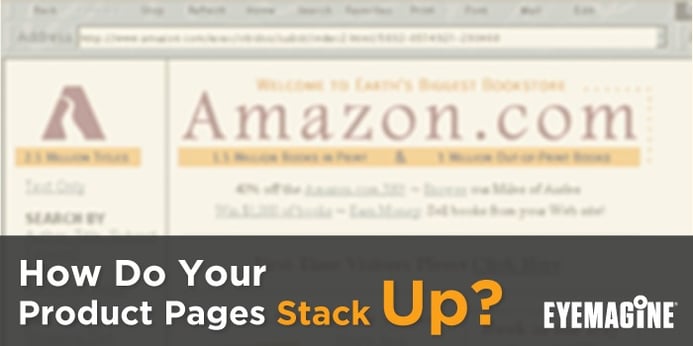 The product detail page is an extremely important part of any eCommerce retailer's website: it is where prospects decide to become customers and where revenue is generated. In order for a retailer to have a successful online presence, its product page has to be aesthetically pleasing, well-organized, and high performing. Here, we discuss five central features that top converting product pages have in common and explore exactly why they are so important.
Clean Design
The design is essentially the first impression that a viewer has of an eCommerce website, and it is extremely important for any retailer that this impression be positive. If a product page is cluttered or inconsistent - with issues like off-brand font and color choices, formatting problems or distracting calls-to-action - site visitors will see these design flaws and be much less likely trust the quality or reliability of that company and its products. It's like walking into a messy store - prospects will simply be put off, overwhelmed and motivated to take their business elsewhere. That is why companies with top converting product pages have a design that is aesthetically pleasing, professional, easy-to-navigate and congruent with the overall tone of their site. They design with their customer in mind, making the entire purchasing process as user-friendly, reliable and attractive as possible.
Minimal Friction
Since the overarching goal of a product page is to convert prospects into customers, it is important that all of the information on that page works toward achieving this larger goal. In other words, there shouldn't be any items on the page that cause friction or get in the way of the viewer adding something to their cart. This seems obvious, but it is surprisingly easy to include a feature - like a graphic or a call-to-action - that is actually distracting potential customers away from making a purchase. To this end, the companies with top converting product pages keep their larger goals in mind every step of the way to ensure that every element that they include on the page - all product copy, calls-to-action, upsells, etc. - helps with conversions and moving the viewer along in the buyer's journey.
SEE ALSO: PRODUCT PAGES THAT SELL EBOOK
Compatibility Across Devices
Now more than ever, people are viewing website pages on multiple devices, including various tablets and smartphones. In this new, increasingly advanced technological world, a product page must be compatible with all of these platforms in order for it to perform well. Why? If customers try to view a page only to find that it is incompatible with their device, they will be frustrated and likely to abandon the website altogether, which obviously means less conversions and success overall. Top eCommerce retailers are extremely aware of this fact, and they ensure that their product pages are aesthetically pleasing and fully functional on all devices.
Effective Product Photography
Viewers always want to get an accurate, complete sense of the product that they are potentially buying before they make a purchase and if a website's product photography doesn't allow for this it could hurt conversion rates. A woman in the market for a pair of shoes, for example, may not buy them from an online retailer if she cannot view the back of the shoes or get a closer look at the material that they are made out of. The photography on all top converting product pages works toward providing this bigger picture for the customer: the images are high-resolution and the company displays as many product viewpoints and angles as possible. There are also a few photography tricks, like placing the product images on the left side of the page and using square dimensions, that top companies use to help keep the product page clean, inviting, and easy-to-browse.
Proper Analytics
For an eCommerce retailer to know if their product page is effectively attracting and converting viewers, they need to be consistently running analytics and evaluating exactly how their page is performing. This allows the retailer to measure and understand how users are interacting with their pages, getting a deeper sense of what is working, what isn't, and what their viewers are primarily interested in. This information can guide the development and evolution of the product page, teaching retailers what areas need improvement and where there is potential for growth or a directional change. Top converting pages are consistently on top of these metrics, using things like Google Analytics and heat-mapping tools to see how their product page is performing and make necessary improvements.