The majority of marketing we do today is digital.
Digital marketing is cost-effective, quickly implemented, easily measured, and it allows for great exposure - to name just a few of its benefits.
All the advantages of digital marketing might lead a marketing director or business owner to ask: are traditional marketing materials still needed?
When used correctly and at the right time, certain marketing materials can still provide immense value for your brand.
Just like some consumers prefer a tangible book rather than a digital reading device, some of your customers might prefer a physical representation of your brand.
Marketing materials do have a place in modern marketing.
In this blog post, I'll list five important marketing materials and why you should consider including them in your marketing strategy.
5 Marketing Materials that are Necessary in the Digital Age
1. Brand Guide
There's a reason brand guides are the first item on our list of essential marketing materials.
If you don't have a comprehensive brand guide, then the rest of this article might as well be a wash. Designing purposeful marketing materials begins with a brand guide that effectively communicates and represents your business.
An effective brand guide includes the following elements of your brand:
Voice and tone

Taglines

Colors

Fonts and typography

Logo specifications

Photography standards

Design layouts (think web page, product pages, email templates, and more)



Every year, Habitat for Humanity creates an outstanding Brand User Guide. Seriously - it's 96 pages of outstanding.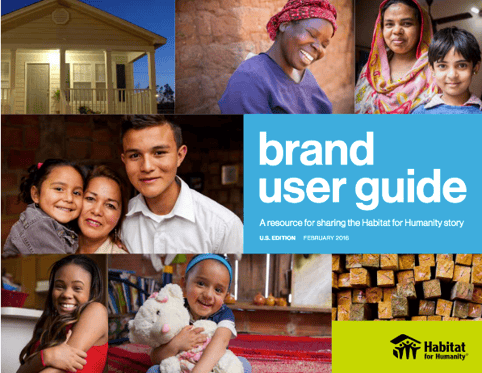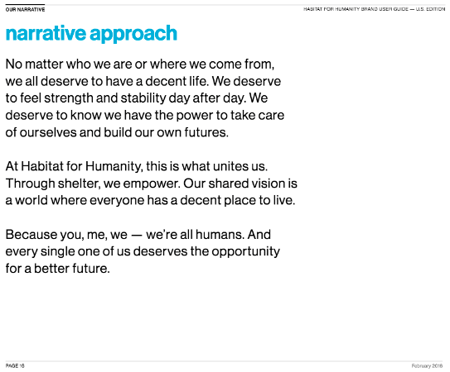 When done correctly, brand guides can help educate and inspire both employees and customers on your brand's unique positioning, empowering them to share in the mission and vision of your company.
This is what makes brand guides a necessity in the digital age.
SEE ALSO: 4 Top Branding Guidelines to Improve Your Marketing Strategy
2. Company Profile
The next marketing material to have in your lineup is a company profile.
A strong company profile should be considered as pure gold to any business. Think of it as your unified marketing and sales team, all expertly communicating the exact same value proposition to every prospective client.
Plus, your prospect can take this marketing material home and share it with their team and boss. With a company profile, you can say exactly what you need to educate a prospect on the highlights of your business.
Items to include in your company profile include:
The company mission

Overview of products or services

Important case studies or accomplishments

Corporate information

Relevant financial growth data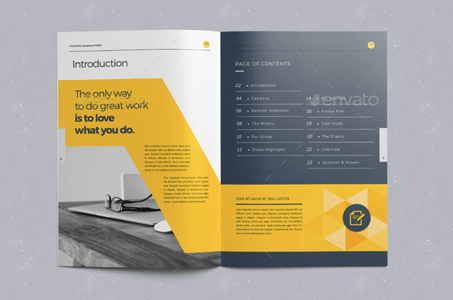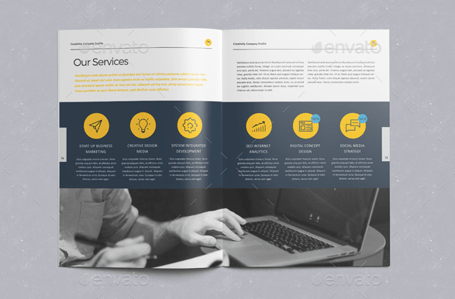 Try to keep this profile brief and refer back to your brand guide frequently - make sure this marketing material represents the crème de la crème of your business.
There are plenty of company profile templates online, but like we said, make sure yours is authentic to your brand.
3. Thank You Cards
Thank you cards are not just a thing of the past.
This marketing material provides great value after you have a proposal meeting, close a sale, or finish off a successful quarter with your clients.
It's the perfect way to share your sincere appreciation and follow up with a prospect in a nonintrusive manner. Keep your thank you cards succinct and professional.
Here are the four main components every thank you note should have:
Formal greeting

The "thank you"

Something personal

Formal closing
Take a look at these unique and creative thank you notes from printing company, Moo: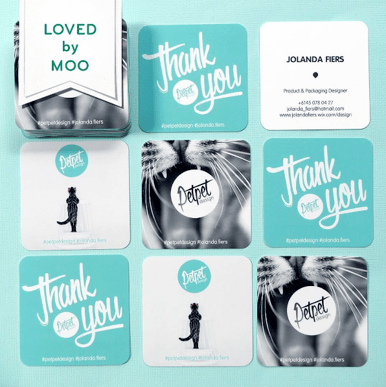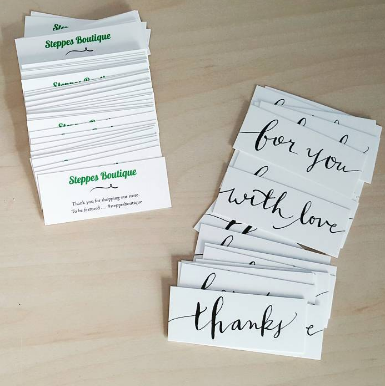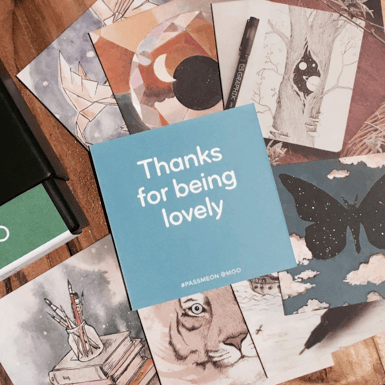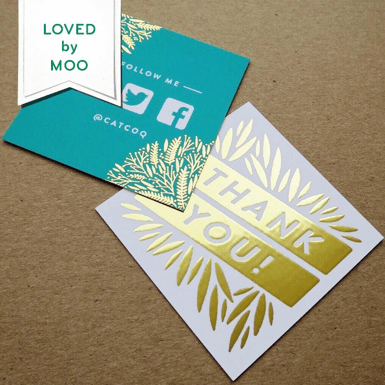 Don't buy a 500-pack of generic thank you notes. As with your company profile, it's important that your cards are customized according to your brand guide.
4. Business Cards
Business cards are needed at virtually any and every business interaction.
From tradeshows and conferences to happy hours and vacations, you should always be armed with business cards.
Shaking hands and exchanging business cards is a much more personal and valuable interaction than simply exchanging contact info digitally.
As a result, your business cards need to be hands-down amazing. If you can't tell exactly who you are and what you do from the design of your business cards, you need to get a new one.
Here are some examples of expertly crafted business cards by Moo.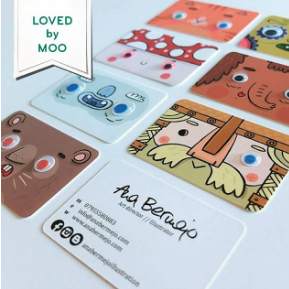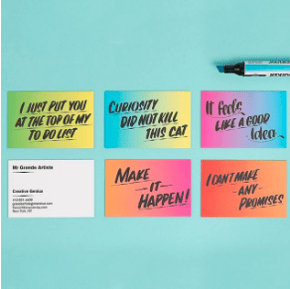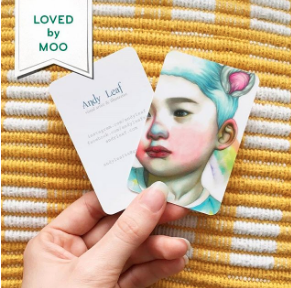 Moo's motto is to "create beautiful, expertly crafted business stationery and promotional materials that'll help you start conversations, open doors and strengthen relationships."
5. Company Swag
The last item on our list of effective marketing materials is a crowd favorite - company swag.
Company swag is an excellent way to raise awareness of your brand. But don't waste your time on logo'd pens or frisbees.
Show your prospects and customers they're worth more than a simple magnet.
Branded items can be used at trade shows, networking events, and even as gifts for clients.
Unique promotional products like these jackets from Charles River Apparel will set your business apart from the crowd. Company swag should help create a more professional impression of your business.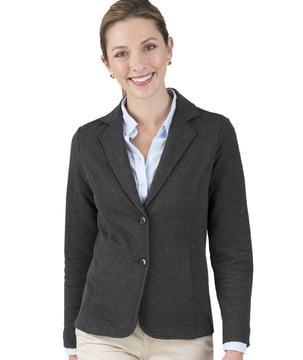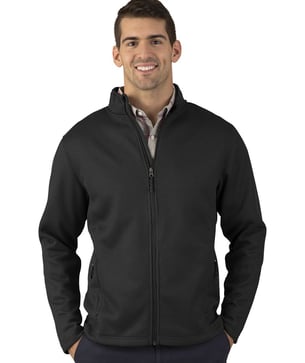 These tangible marketing materials are all designed to strengthen business relationships, create a unified sales pitch, and present your company in the most well-polished light.
When wondering if you still need marketing materials in this digital age, or which marketing materials you should invest in, just review our handy list of suggestions above.
Need help deciding which marketing materials you need in your marketing strategy? Contact EYEMAGINE for a consultation, and let our team of marketing professionals provide you with expert strategy tips today.