Features
High Fashion
The first concept was High Fashion. The inspiration for the aesthetic here was, as you might expect, high-fashion brands like Chanel and Fendi. To emulate this look, our designers focused on an overall standoffish, clean tone. This translated to:
Overall, we wanted to get across the idea of strength and differentiation through fashion and glamor.
High Life
The second concept was High Life. Here, we wanted the aesthetic to be dramatic and smokey, with the guiding words and ideas being rooftop, whiskey and smoke, lavish, top shelf, and heritage brands. This translated into:
Gold lines

The use of serif display fonts: our designers decided to combine serif and sans serif text in order to give a bold statement and intellectual flare.

Strong, smokey images

Extensive use of the color black
High Tech
The final concept was High Tech. The main aesthetic here was designer tech, modeled after top brands like Apple: crisp, clean and very clear. This led to examples that used:
Thin fonts

Lighter colors like sky blue for an intelligent feel

Intellectual, technology-based imagery.
The Final Product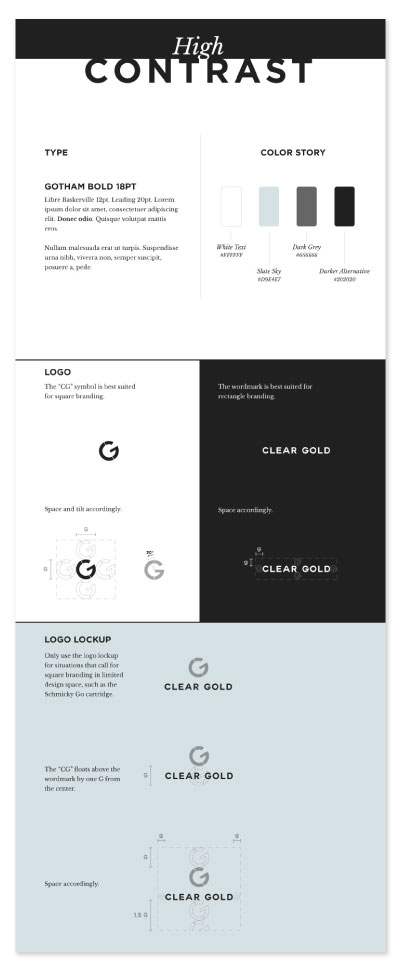 The final product incorporated elements from all three concepts to create one cohesive, unique brand. Specifically, it incorporated the High Fashion photography, the cooler colors featured in the High Tech brand, and the darker tone and beginning from the High Life landing page.
In this final concept, we aimed to create a visual representation of Clear Gold's high contrast brand and vibe. They essentially have two distinct lines, their "Black Hat" line that contains THC and their "White Hat" line that is strictly aromatherapy products, and we wanted to make sure that this distinction was visually apparent. The high-contrast, black and white aesthetic that we chose aimed to visually combine these unique offerings, using their brand and style guide choices to reflect the dichotomy that exists within the brand itself.
Overall, our approach to this branding and style guide was unique and effective. Generally, when agencies or designers present brand guides, they present a photo, a brand statement, and some typography and colors. With this traditional format, it can be difficult to visualize the finished site and see how the choices will look on the final product. That's why we chose to present a completed landing page along with the product shots, photography, type, color story and logo lock. This approach gave Clear Gold a publishable sense of what their brand would look like, which will make their long-term design process and subsequent decisions much quicker and smoother.