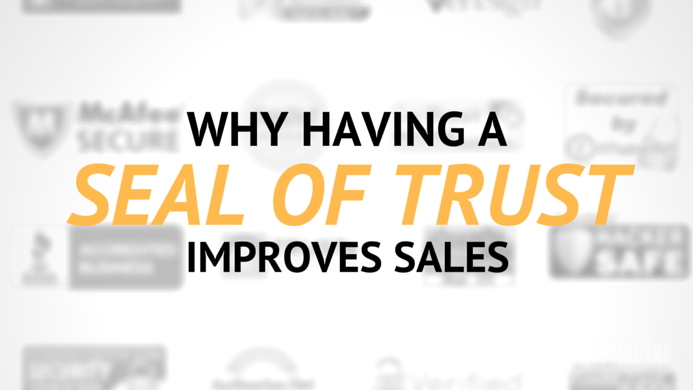 The famous Zig Ziglar once said, "If people like you, they'll listen to you, but if they trust you, they'll do business with you."
For eCommerce retailers, this kind of trust is paramount: it is a key factor that will allow them to build their online store, attracting traffic and encouraging site visitors to go to their site instead of their competitor's. When prospects visit an eCommerce site, they want to feel:
That their money and personal information is safe
That the product or service that they receive will meet or exceed their expectations
That they will complete their transaction and receive their order in a timely, reliable manner
If a site does not have trust indicators - like a seal of trust - that encourage these feelings, prospects will likely bounce and visit a site that makes them feel more comfortable. Here, we break down how and why a seal of trust can drive conversions and keep visitors from leaving an eCommerce site.
The Big Picture
Today, there are more than 110,000 eCommerce sites operating and generating meaningful revenue. Unfortunately, with this ever-growing landscape comes an increase in the number of online fraud hacking incidences. With such security breaches becoming increasingly common and high-profile, many potential customers are left much more hesitant to convert into paying customers. Overall, consumers are:
Unsure about which sites can be trusted
Leery about the mechanics of the transaction process
Hesitant to put their faith, credit card details and personal data at risk.
In fact, approximately 17% of online shoppers abandon their carts because of payment security concerns. First-time shoppers are especially vulnerable to these concerns, and they are unlikely to buy from a new eCommerce retailer if they don't feel completely confident in the legitimacy of their business and the security of their payment process.
SEE ALSO: How do your product pages stack up?
eCommerce retailers can quickly and effective solve this problem by including a seal of trust on their site. Seals from reputable companies instantly increase the trustworthiness of an eCommerce site, thereby increasing both traffic and conversion rates. Let's break it down a little further and discuss the basics of the seal of trust and the options that eCommerce retailers have.
What Is A Seal Of Trust And Why Is It So Important?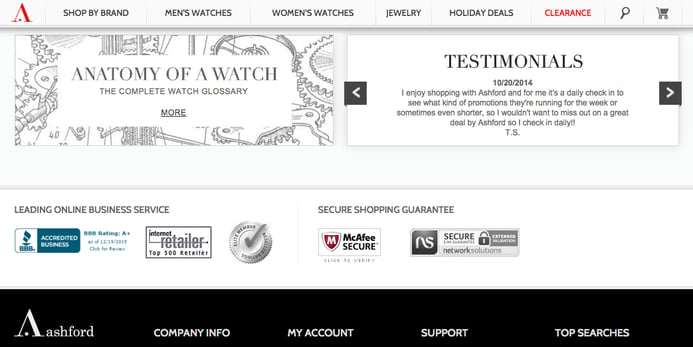 A seal of trust is a seal, badge, logo, or icon that is granted by a third-party trust seal company and displayed on an eCommerce site. It verifies the safety and security of the transaction process - i.e., when people use their credit card - and confirms the reputability of the site. Retailers can earn a seal of trust by using a secure sockets layer (SSL). An SSL encrypts important information - like a customer's address and credit card information - that travels over the internet, making sure that hackers can't read it if they happen to get their hands on it.
SEE ALSO: Safety First: The Basics of Website Security for eCommerce Retailers
So how much does a seal really mean? In a survey of online shoppers conducted by Econsultancy, respondents said that the single most important factor that they considered when deciding whether or not to complete a transaction was the presence of a trust seal or seals (yes, you can have more than one).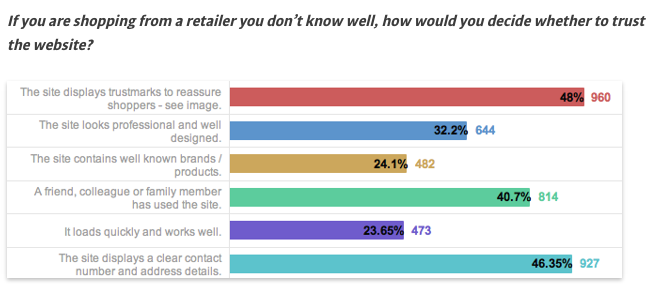 Which Seals Do Customers Trust The Most?
That said, not all trust seals are created equal - or, at least, not in the eye of the consumer. For big brands like Amazon or Zappos, seals in general are not that important: these large companies have already built their customers' trust and they have the credibility of an established platform and validated UX. For smaller eCommerce stores, however, it is important to have well-known badge of trust on their site to prove to customers that the business is legitimate and that their payments will be secure.
So, which seal is most reputable according to consumers? In a survey done by Baymard Institute, participants were asked, "Which badge gives you the best sense of trust when paying online?" They were then required to click one of the following icons:

Photo credit: Baymard Institute
Here are the results: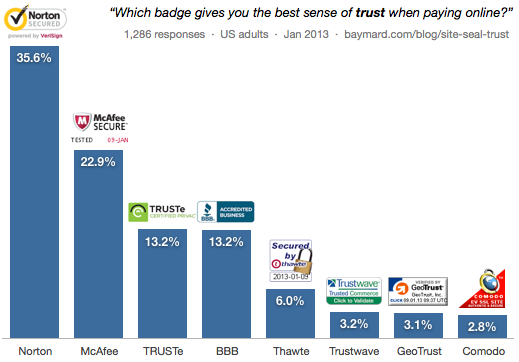 At 35.5%, Norton Secured at 35.5% was a clear winner, with McAfee Secure coming in second place with 22.9%. TRUSTe and BBB Accredited Seals shared a joint third place with 13.2%.
In a similar study done by Conversion Sense, 1,217 U.S. respondents were asked: "When buying online, which badge makes you feel most confident about completing the purchase?"
Here are the results: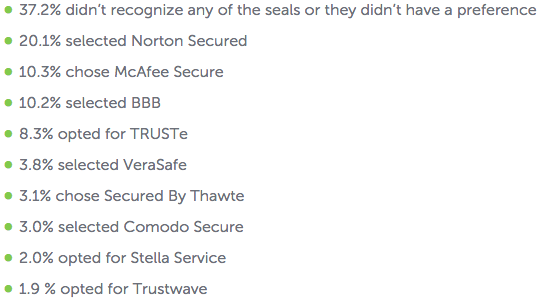 Photo credit: Conversion Sense
Again, Norton Secured came in first place, with McAfee Secure in second, BBB in third, and TRUSTe in fourth. These results are not surprising, since Norton Secured has been the favorite in more than a number of trust seal preference surveys.
This doesn't mean that Norton Secured is the most trusted or secure seal badge on the web. However, the fact that it ranks highest in terms of customer's perceived security is extremely important for most eCommerce retailers. Why? This perceived security has proven to be even more valuable than recommendations from friends and family when a prospect is deciding whether or not to buy.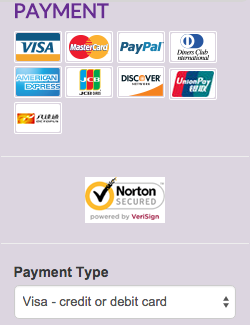 Screenshot taken on: Strawberrynet
Sealing The Deal
Though adding a trust seal to your checkout page can increase your conversion rates, it cannot be the only element of an eCommerce site that works to assure customers that they'll be safe from fraud and hacking.
eCommerce retailers should seal the deal (pun intended) and convince customers to buy from their store by:
Adding copy to their website that highlights their dedication to fighting these issues
Describing the steps they have taken to ensure data safety.
Optimizing the checkout page, ensuring that the UX, design and payment process is streamlined

to increase conversion rate.
Though online security continues to be a pressing problem, displaying a trust seal is the first step that eCommerce retailers can take to combat this issue and prove their commitment to online security. This will help customers feel more comfortable completing the checkout process and, in turn, lead to a higher conversion rate and more sales. Trust me.