March 5, 2015 - Las Vegas, Nevada - EYEMAGINE was recognized as the winner of the "Best in eCommerce" award at the Business Excellence Forum in Las Vegas. President & CEO, Andy Etemadi, was happy to accept the award, "This is a huge recognition of EYEMAGINE's collective success and results for our clients. We reached another milestone on a journey together and I want to thank the EYEMAGINE team for your amazing work and inspiring talent." This prestigious Business Excellence Awards Ceremony honors the accomplishments, achievements, value and contributions of small businesses and their owners worldwide. It is dedicated to the best of the best in pro-growth small business practices and outstanding entrepreneurial results in an exciting setting of innovation, networking, education and incredible results.The Business Excellence Forum is a unique and "hands-on" event that focuses exclusively on "best practices" and high payoff strategies designed especially for small and medium-sized businesses.
EYEMAGINE has put in a remarkable effort in growing their business through extraordinary customer service, award-winning design, over 100+ successful eCommerce implementations, and exceptional inbound marketing results for their clients. This is not the first time excellence has been awarded. The collaboration between EYEMAGINE and cinda b led to a breakthrough design direction that was so well received, it was given the highest honored IMA, Best in Class Award. It represents the very best in planning, execution and overall professionalism. EYEMAGINE's eCommerce website for www.BRAVEN.com won the title of W3 Winner and Official Webby Award Honoree in the consumer electronics category among 11 other Webby Award Honorees. EYEMAGINE is honored to accept this award and looks forward to helping more businesses succeed online in 2015 and the years to come.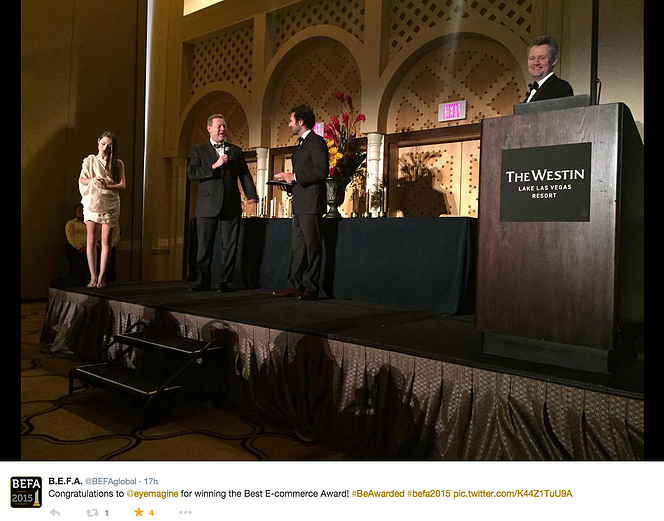 About the Business Excellence Awards
The Business Excellence Awards was created to recognize the "Best of the Best" in the small-and-medium sized business (SMB) sector, the awards ceremony honors the achievements and accomplishments of owners in industries and categories from around the world. The Business Excellence Awards were founded in 2011. There are currently five Business Excellence Award competitions worldwide: USA, Canada, Australia, Indonesia and United Kingdom. The Business Excellence Award are open to all organizations with operations in the country the awards ceremony is being held.
About EYEMAGINE
EYEMAGINE is an eCommerce innovator. EYEMAGINE builds scalable, durable, and beautifully-designed eCommerce experiences. Leading online businesses partner with EYEMAGINE to aid them in achieving their business goals related to online strategy, website design, custom software development, inbound marketing, traffic attraction, and customer conversion. EYEMAGINE has partnered with globally recognized brands like Disney, HP, TOYOTA, BRAVEN, CBS, Alpinestars, and many more to develop eCommerce stores, mobile sites, applications, and inbound marketing strategies that help EYEMAGINE's clients to achieve their diverse business goals.