It's time to go back-to-school for many Americans, and retailers are more than ready for the surge in consumer shopping. But one question remains: how far will consumers cut their spending this year thanks to the current economy?
To entertain your eyes and give you some answers, the National Retail Federation came up with the following infographic covering industry statistics and predictions. (We've only included the top portion for spacing. You can see the rest of the graphic here.)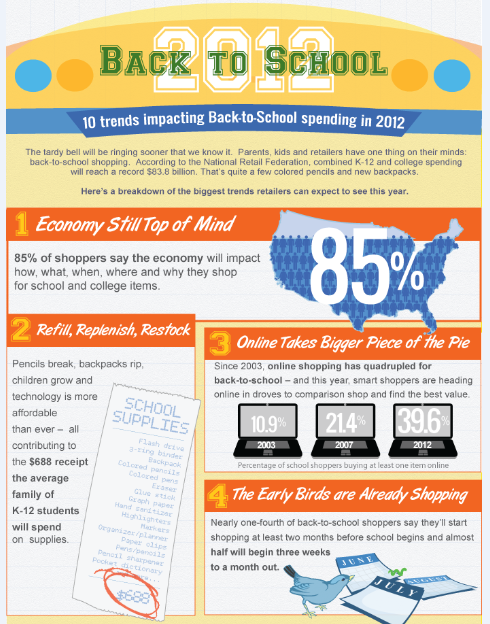 So are shoppers this year budget-conscious? You bet they are. Can retailers, department stores and small businesses alike, be prepared for thrifty spending? They can when they look at several pointers:
Combined back to school shopping for K-12 and college is expected to top 83.8 billion dollars. That's a notable close second to the post-Thanksgiving shopping season.
Where's the first place shoppers turn for potential savings? Online.
Gift cards are an excellent solution for budget-conscious shoppers who only want to spend a certain amount of money.
Mobile and tablet shopping is one the rise. 1/3 of back to school shoppers will research products and comparision shop on their mobile and tablet devices.
Shoppers like a quick, easy way to get prices and product information, and mobile sites are a perfect solution, offering convenience and accessibility anywhere.
Shoppers plan on spending more online than instore.
Shoppers remain fickle, but the right audience for a product can still be found by targeting product search terms.
The shopping season starts early with half of shoppers planning their spending a month before the class bell rings.
The time is ripe for eCommerce sales, as budgeted shoppers turn online for better and more customized buying choices. Are you ready to maximize your stores potential? Read further with this this excellent article on back-to-school tips for online retailers or check out these in-depth statistics.
*infographics and industry statistics provided by National Retail Federation